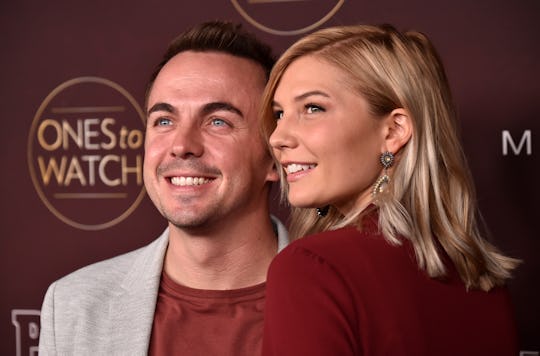 Frazer Harrison/Getty
Frankie Muniz Revealed His Dating Status On 'DWTS'
Frankie Muniz has been out of the spotlight for a while, so now that he's back in the public eye thanks to his turn on Dancing with the Stars, people are naturally curious about what's been going on in his life lately. In fact, I wouldn't be surprised if some are wondering: is Frankie Muniz single? The Dancing with the Stars competitor revealed on the show that he has found love with his girlfriend Paige, who seems to be a supportive and loving partner in his life.
Personally, I've found this look into Muniz's life a little harrowing. On the show, Muniz opened up about his life since he quit acting and it sounds, in a word, painful. For many years, Muniz competed as a professional race car driver, and was in a devastating crash resulting in several injuries that still pain him today. He has also suffered several mini strokes over the years, and had several concussions. Whether all of this is related is still a little unclear, but he also appears to have some really serious memory loss, which he has detailed on the show. It would be understandable if all of this caused him to go into a depression, but Muniz seems more than satisfied with his life, saying that his girlfriend, Paige Price, writes in a diary everything that they do so that he can go back and remember it all.
Price is a model, and clearly a really great girlfriend. You know those couples on Instagram and Twitter who are so lovey-dovey that they'd be absolutely insufferable if they weren't so clearly happy together? That's Price and Muniz. They're constantly popping up on one another's social media accounts, filled with support, love, and the occasional sweet inside joke. Apparently Muniz is uncomfortable eating weird foods. Price sometimes feels awkward in front of paparazzi. Nevertheless, every photo taken of them shows the two of them smiling from ear to ear.
In a sweet Instagram post, Muniz wrote of his girlfriend, "This is the first picture we took together and my favorite ever. You can see the love and it makes me so happy. I love you @pogprice!" Not to be outdone, Price writes equally gushy captions for photos with Muniz.
"I'd literally do anything in the world to make you happy. I'm so proud of you, Prince Charming @frankiemuniz4" she said. Basically, these two could not be more in love with each other. Though Muniz has clearly been dealing with a lot of health issues lately, he seems to be truly thrilled with his life, and I can't help but think having such a great partner has something to do with it.
"She's amazing. She literally writes because I get sad at the thought of losing the memories," Muniz said of Price to People. "So she writes in a journal that I can look at every day and it's really cool, because it has amazing detail. She started doing that about a year ago and hopefully she'll continue. She's awesome. She's very supportive. I hope we have a lot more memories [together]."
Muniz hasn't always been so lucky in love. His last public relationship was with Publicist Elycia Marie Turnbow to whom he was once engaged. It's not totally clear why that relationship ended, but what is clear is that Muniz is more than satisfied with what he has now. I also hope the two make many more memories together. I love a good love story.
Watch Romper's new video series, Romper's Doula Diaries:
Check out the entire Romper's Doula Diaries series and other videos on Facebook and the Bustle app across Apple TV, Roku, and Amazon Fire TV.