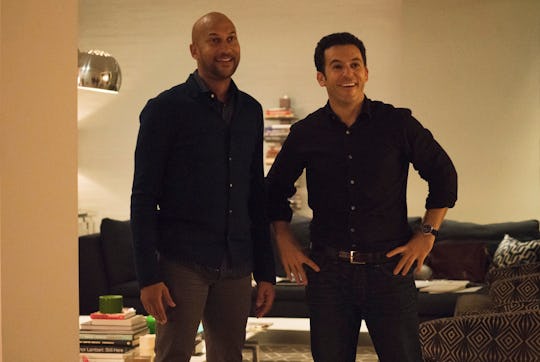 Barbara Nitke/Netflix
The Premiere Of 'Friends From College' Is Personal To The Creators
Netflix is adding another original comedy show to its ever-growing catalog, this time in the form of Friends From College. Created by the husband and wife team of Nicholas Stoller (who has been at the helm of films like Get Him to the Greek and The Five-Year Engagement) and Francesca Delbanco, the show follows a group of 40-year-olds who have remained friends after attending Harvard and are now navigating a new phase of life together. With a cast of seasoned TV comedy stars like Keegan-Michael Key, Fred Savage, and Cobie Smulders, this show is pretty much guaranteed to be worth your time. So is Friends From College based on a true story? The material is definitely personal to Stoller and Delbanco.
In an interview with Entertainment Weekly, Stoller discussed how they came up with the idea for the show.
My wife [Francesca Delbanco] and I wrote the first script over a few years. We started working on a show just kind of about marriage, and then we thought [about how] we have a very tight group of friends from college out in Los Angeles and we've always found the dynamic really interesting. They're like our family, they're the people we're closest to, but we also all regress when we're around each other, and so it seemed fun to push it to the extreme with this group.
Like the characters on the show, Stoller and Delbanco also went to Harvard, and when asked about why Friends From College focuses specifically on the 40-something age range, Stoller added, "I think those are just the specifics of the characters. I think they're all relatable because they're all flawed, and they have the same fears and hopes and desires."
On Friends From College, Key and Smulders play married couple Ethan and Lisa who are trying to have a baby together. The only complication? Ethan has been having a 20-year long affair with their fellow Harvard grad, Sam (Annie Parisse), who is also married. Can you say, awkward?
Stoller revealed that one of the first ideas for the show was bringing humanity to a concept so dark as adultery. "The ultimate regression is a hookup that never ends," he said during the same Entertainment Weekly interview. "These are characters who would not normally cheat; that's not the problem. The problem is these two, Ethan and Sam, want to somehow have their adult life but also live in the past when they were in college."
All eight episodes of Friends From College premiere on Netflix starting July 14.