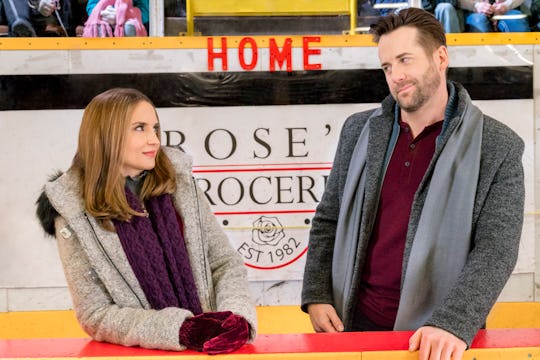 Hallmark Channel
The Creation Of Hallmark's 'Frozen In Love' Is All Thanks To Rachel Leigh Cook
It's hard not to love the Hallmark Winterfest movies, even though some of the stories are a little too good to ever be true. But just in case you were wondering, whether or not Frozen In Love is based on a true story, I'm here to tell you that, sadly, it is not — though it would be amazing if it was. The movie stars Rachael Leigh Cook as Mary, a "struggling book store owner" and Niall Matter as Adam, "the bad boy of professional hockey," who both end up going to the same PR firm to help them out. For Mary, that means helping the bookstore get popular again and for Adam, it's about cleaning up his image.
The two end up being paired in a "mutually beneficial buddy system," which, in case you're wondering, is definitely not standard PR practice. As she tries to help Adam repair his image, he's supposed to offer some help reinventing the store. While they prep for a big event to save the bookstore, the two unlikely friends end up falling for each other. It's like You've Got Mail and She's All That in one, delicious cheesy made-for-TV movie package and I am totally here for it. Which is pretty fitting, given that Cook was also the star of the aforementioned classic teen makeover rom-com with Freddie Prinze Jr.
Since then, Cook has starred in tons of other movies, such Get Carter, The Big Empty, and shows like Psych, Las Vegas, and of course, The Babysitter's Club way back in 1995, as Maryanne. But Frozen In Love is especially important to Cook, since it's based on her idea, so maybe there's a little more reality in the story than viewers will know about. Cook actually got the idea while watching Frasier a few ago, according to a recent interview she did with The Huffington Post:
I really liked the idea of playing a character who is a little too smart for their own good, a little too tightly wound. I loved the work that David Hyde Pierce got to do on that show. I wished I could do something with tones of that. I was also obsessed with sports movies, so I wondered how I could mesh those things together.
She went on to say, "Then I had the idea all at once, which was the best mini-thunderbolt. I always let it sit in the far reaches of my mind." When she started working with Hallmark, she was able to pitch the idea to producers and says that they were shooting "three months later."
Cook explained that although the premise is totally made up, her character isn't too much of a stretch. She told the International Business Times in an interview, "If you watch the movie and think, 'Wow, she's awkward and slightly annoying,' that's all me. That's me, top to toe. Earnest, but awkward, sums me up pretty well."
The chemistry between the two is also palpable, and that was true on set, too. "Niall could not be cooler," Cook told IBT. "I feel so lucky that I had such a dedicated and willing and responsible actor in that role." The writing felt real to her as well. Although the story might be a total fantasy, Cook says that doing movies like this feels "like home" to her, especially after doing some crime drama and darker indies recently.
So the fact that the movie is not based on a true story is actually a good thing. The whole point of a movie is to transport you somewhere else, right?
Check out Romper's new video series, Romper's Doula Diaries:
Watch full episodes of Romper's Doula Diaries on Facebook Watch.