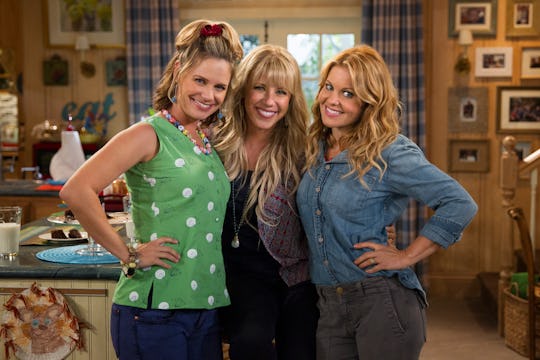 Netflix
Is 'Fuller House' Season 2 Filmed In Front Of A Live Audience? The Reboot Returns
Fuller House returned to Netflix for a second season on Friday, Dec. 9 with all the fanfare of the Full House reboot's super successful first season. In the pilot, we saw just how much love fans of the 1987 original had to give the show, with pregnant applause breaks filling up the live studio audience every time an original cast member entered the soundstage. The audience also warmly received every throwback catchphrase (no matter how forced, and trust me, there were some cringeworthy "how rude"s ). But is Fuller House Season 2 filmed in front of a live audience?
You bet it is! It wouldn't be Full(er) House with tightly cued "OoOoOo"s every time two tweens kiss each other. Even though this season's laugh track sometimes feels a little forced, the second season was filmed in front of a live studio audience, just like its first season and, of course, like the original. It can feel dated and cheesy sometimes (or like you're suffering an inane Disney Channel show while watching a small child), but isn't nostalgia what you're tuning in for? (Plus, the jokes are way funnier and better geared toward adult viewers than those Disney Channel shows.) In fact, the raucous audience reactions were one of Cameron Candice Burr (who plays D.J. Tanner)'s favorite moments from Season 1. She said in an interview with Huffington Post that "the [studio] audiences were going crazy" when they shot the pilot and that filming "exceeded all of our expectations."
Fuller House Season 2 began filming in front of a live audience at Warner Bros. Studios in Burbank, CA this past May, which accounts for the quick turnaround between seasons. (Season 2 premiered just 10 months after Season 1 released.) The audience is almost as enthusiastic about Season 2 as they were during Season 1, but it's possible the series leaned more heavily on pre-taped segments or simply on the laugh track, which would account for some of the more forced-feeling moments the reboot suffers this season.
Or, it's possible that the nostalgia and novelty of the reboot simply wasn't as fresh for audiences as their first introduction to Fuller House. Regardless of the more subdued audience, the second season feels strong enough, storyline-wise, to keep us entertained. And you can bet there was still a huge reaction when Bob Saget, John Stamos, and Dave Coulier appeared on the stage for the first time. No word yet on whether Fuller House will be renewed for a third season, but keep an eye on TVTickets.com if it does get re-upped. That's where you can snag seats for yourself to watch a taping — and it's free!