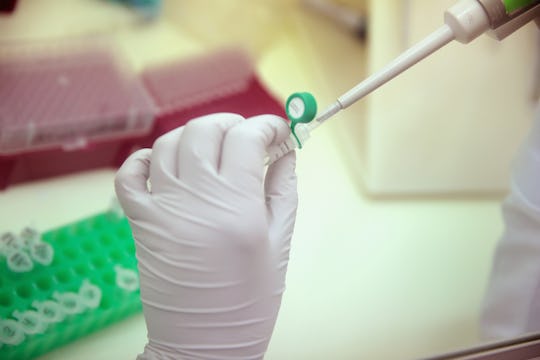 Scott Olson/Getty Images News/Getty Images
Is Funding Stopping Zika Vaccine Development? It's Getting Close
The National Institutes of Health began clinical trials of a Zika vaccine in early August, according to The New York Times, but unless Congress can start working together, it will have to abandon those trials before they ever reach phase two. Funding for Zika vaccine development is close to running out, and Republicans and Democrats just can't seem to see eye to eye on how to handle it.
In April, after a congressional deadlock, the Obama administration redirected $589 million earmarked for Ebola funding towards fighting Zika, according to the Times. Those funds are set to run out at the end of the month, so earlier this month, $34 million additional NIH funds have now been transferred to the Zika effort. Those funds were originally intended to pay for cancer and diabetes research. The Biomedical Advanced Research and Development Authority will receive $47 million, siponed off from various accounts meant for heating oil subsidies and substance abuse programs. The additional funding should last through the end of September, which puts the NIH absolutely nowhere near the finish line, which means that either congress stops bickering and passes a measure to fully fund Zika research once and for all, or many more important public health programs are going to be underfunded.
National Institute of Allergy and Infectious Diseases Director Anthony S. Fauci, M.D. announced on Aug. 3 that animal testing of the experimental vaccine had been "very encouraging," and 80 healthy adults were participating in the first round of human testing. The vaccine contains synthesized Zika genetic code which will prompt patients immune systems to release Zika-fighting antibodies. Since the vaccine doesn't contain the actual Zika virus, it cannot infect patients. Trial participants will be followed for two years to monitor the vaccine's safety and efficacy.
NIAID hopes to begin Phase 2 trials in early 2017, pending approval from the Food and Drug Administration, according to CNN. But that can't happen without a lot more money. Unfortunately, the parties have been at odds for months on just how that funding should be handled. There are disagreements over not only how much money to spend, but precisely what it should be spent on. In July, Republicans introduced a bill that would bar any Zika funding from going to Planned Parenthood, according to The Hill. Democrats refused to go along with the bill, since contraceptives provided by the organization could help prevent sexual transmission of the Zika virus. Good luck to the NIH, they're going to need it.