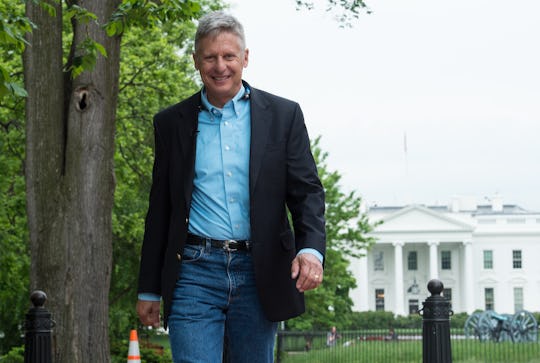 AFP/AFP/Getty Images
Is Gary Johnson Attending The Second Presidential Debate? He Had To Meet Polling Criteria
In case you've been feeling a bit overwhelmed by the presidential and vice presidential debates, try not to lose momentum just yet. There's still two presidential debates left, and I'm sure, there will continue to be a lot of information to analyze and unpack. But as Democratic Party presidential nominee Hillary Clinton and Republican Party presidential nominee Donald Trump go for round two in the debates, many may still be wondering about the third party candidates. Is Gary Johnson attending the second presidential debate? The Commission on Presidential Debates (CPD) has not invited the Libertarian Party presidential nominee to the second presidential debate.
The CPD released a statement on Tuesday, explaining that certain parts of the criteria to qualify to participate in the debates – the Nonpartisan Candidate Selection Criteria – prevented Johnson and Green Party presidential nominee Jill Stein from receiving an invitation to the second presidential debate on Sunday, Oct. 9 at Washington University in St. Louis:
Pursuant to the criteria, which were publicly announced on October 29, 2015, those candidates qualify for debate participation who: (1) are constitutionally eligible to hold the office of President of the United States; (2) have achieved ballot access in a sufficient number of states to win a theoretical Electoral College majority in the general election; and (3) have demonstrated a level of support of at least 15 percent of the national electorate, as determined by five selected national public opinion polling organizations, using the average of those organizations' most recent publicly-reported results.
The CPD's statement explained that Johnson and Stein did not meet the minimum 15 percent of support in polls to qualify. The five polls the CPD relies on are: ABC-Washington Post, CBS-New York Times, CNN-Opinion Research Corporation, Fox News, and NBC-Wall Street Journal. Johnson and Stein polled at 7.4 percent and 2.6 percent respectively.
Both Johnson and Stein's supporters have spoken out against the CPD's debate stage criteria, and have demanded that the debates be open to the third party candidates. On Twitter, the hashtag #opendebates has called for inclusion of Stein and Johnson.
According to a local CBS St. Louis, KMOX, report on Thursday, Johnson supporters organized protests in St. Louis to protest the Libertarian nominee's exclusion from the debate stage.
Terry Michael, the senior media advisor for Johnson and his running mate, former Massachusetts Gov. Bill Weld, reportedly noted that it's a "big disadvantage" for tens of millions of Americans to not have Johnson take the debate stage.
"The big disadvantage is that tens of millions of Americans who are not aligned with either party will not have representation on the debate stage," Michael said according to CBS KMOX. "We will just have the two polarized cage fighters, Hillary Clinton and Donald Trump, yelling verbal insults at each other and not really engaging in any policy-oriented debate."
The final presidential debate will take place on Oct. 19 at the University of Nevada in Las Vegas. It will be interesting to see how the conversation surrounding inclusion on the debate stage progresses in the coming weeks.