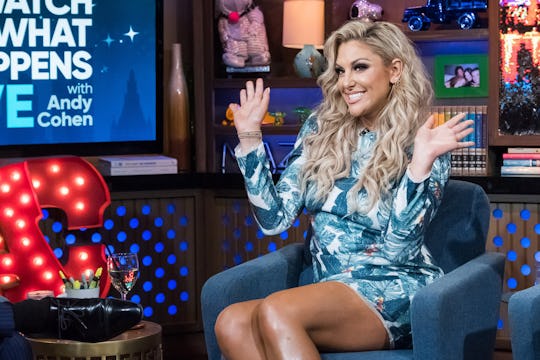 Charles Sykes/Bravo
Gina Kirschenheiter From 'RHOC' Is Still In The Midst Of A Divorce
Season 13 of The Real Housewives of Orange County introduced fans to newbie, Gina Kirschenheiter. The Long Island native moved to Orange County with her husband Matthew Kirschenheiter three years ago, but she filed for divorce before the season aired. The two have been separated since April, so fans want to know, is Gina Kirschenheiter From RHOC divorced yet?
Getting a divorce isn't easy, and in an interview with People, Gina revealed why the couple's divorce still isn't final. "There's so much paperwork, it's a huge pain in the ass," she told the outlet, adding that the negotiations have been friendly and civil because the two still remain friends. "Matt, I would never throw under the bus. He's my best friend. I can never imagine him not in my life," said Gina. "He's the father of my children. He's the most important person to me."
The couple has been together for 11 years, married for seven, and they have three children together — 5-year-old Nicholas, 4-year-old Sienna, and 2-year-old Luca. When kids are involved, divorces can get messy, but Gina told People that Matthew will continue to support the family financially. "He's always going to take care of us, we don't come from money, so it's not about money," she said. "I'm not going to fight over money, it's not worth it."
In an interview with Newsday, Gina revealed that she first met Matthew in college and got married when she was just 23. Matthew's job moved the family from Long Island to Orange County, where Gina met Housewife Tamra Judge through a friend. Judge went on to refer Gina as a new addition to the show, and she was eventually offered a role. It was right around the time she started filming for RHOC that Gina says her marriage became strained.
However, she told Newsday that her relationship with Matthew is still very healthy, and the two will continue to parent their kids together. "We've always been really good friends and realized we're better as friends than as a married couple," said Gina. "We're trying to be the most amazing parents still to our children. We're always going to be a family, doing things as a family."
Despite the divorce filing and separation, Gina and Matthew really are trying to keep their family together. On Instagram, Gina has pictures of Matthew with the kids, and has posted family outings including a recent picture of the entire family with their new dog. Through her summer Instagram posts, you can see that Gina and Matthew took the kids out to the zoo, took them to the beach, and celebrated their son Noah's sixth birthday together. To commemorate Father's Day, Gina posted a collage of Matthew with all three of their children as newborns with a caption that shows how much love there still is between the two. "It was a great day celebrating the dad that made me a mom 3x's over," she wrote. "We love you!"
As much as Matthew continues to be a part of Gina and the kids' lives, you probably won't see him on the show. In her interview with Newsday, Gina said that Matthew's absence from the show was due to his job, and has nothing to do with their divorce. "His employer did not want him to," she told the outlet. "It wasn't a decision having anything to do with our relationship. Pure timing."
With her marriage behind her, there may some dating and romance in the future for Gina, so fans can keep their eyes on RHOC and her Instagram page for updates. But regardless of where her future takes her, it is refreshing to see Gina work through her life's obstacles in such a healthy and loving way.