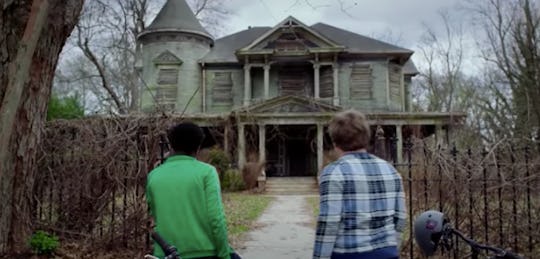 Sony Pictures Entertainment / YouTube
Is 'Goosebumps 2: Haunted Halloween' OK For Young Kids? Here's What Parents Should Know
The spookiest month of the year is here, and a lot of parents are just as excited as their kids about the approach of Halloween. You may feel inspired to go to corn mazes, decked-out neighborhood haunted houses, or pumpkin patches. But when it comes to Halloween flicks, how much scare is too much? Should you take your kid under 5 to Goosebumps 2: Haunted Halloween?
It's a good question. The movie, based on R.L. Stine's books, is a mildly-spooky franchise that's wildly popular with kids in general. "In general" is a good phrase to keep in mind, because this tale of two friends, according to Common Sense Media, Sam (Caleel Harris) and Sonny (Jeremy Ray Taylor), who find a mysterious book in an abandoned house and unwittingly unleash various ghostly elements including an evil dummy named Slappy, doesn't look like a 100 percent slam-dunk for younger kids.
And sure, while Sam, Sonny, and Sonny's sister Sarah (Madison Iseman) end up figuring out how to stop the monsters before they completely take over, as YouTube trailers explained, the movie definitely looks like it has its share of moments that make you jump, kids in danger, and a more 'tween-ish sense of humor.
It's for this reason no doubt that Common Sense Media — a website that rates movies and other kid's products so parents can make more informed choices — has recommended Goosebumps 2 for kids ages 9 and above.
According to The Hollywood Reporter, the story also includes things that might not sound so scary on paper, such as menacing Gummy Bears come to life and creepy houses, but I'm not sure that all little kids would love to see their favorite chewy candy snack gone bad.
But with the addition of such well-known adult actors as Jack Black, Wendy McLendon-Covey, and Ken Jeong, according to IMDb, this movie will definitely be a hit for the right kids in the right demographic.
Another ratings site, Kids-In-Mind, notes that the movie's rating from the Motion Picture Association of America is PG, for the inclusion of creepy images and a little rude language. The site noted that the sequel is expected to be very similar to 2015 original, Goosebumps (which also got a PG from the MPAA), so studying up a little more on that movie, or how kids you may know reacted then, may provide clues.
In that story, Kid-In-Mind noted, when a young man discovers his eccentric neighbor (Jack Black) is a tormented writer, the boy accidentally causes a chain of disastrous events by opening a locked book and releasing the monsters trapped inside to go haunt the town.
One of my kids loved horror-type stuff even as a little one, and now, as a pre-teen, she's ready for any freaky movie her dad might want to take her to (I personally scare easy). Meanwhile, her bigger sister was always super-sensitive to loud noises and can't take those moments in thrillers where the characters scream.
The key here is knowing your kid: For an almost-5-year-old who loves spooky things and just doesn't scare easy, this might be the most awesome afternoon of popcorn and entertainment ever spent. But a slightly sensitive 3-year-old who's had some nightmares? Maybe not so much. As parents, we're always so eager to share our own holiday likes with our kids, but the movie will be around to stream later if you're not sure.
In any case, you can make the decision for yourself when Goosebumps 2: Haunted Halloween arrives in theaters Oct. 12.