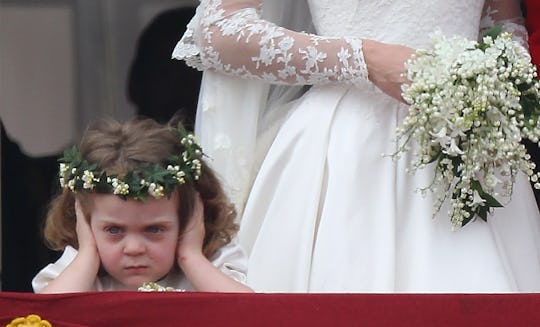 Peter Macdiarmid/Getty Images Entertainment/Getty Images
Is "Frowning Flower Girl" Going To Be At Harry & Meghan's Wedding? One Can Only Hope
At the royal wedding in 2011, one tiny bridesmaid made a sensation by covering her ears and grimacing at the audience while William and Kate shared an unforgettable kiss. Hey, kids will be kids no matter what, even if history is being made right behind them. So will Grace Van Cutsem attend Prince Harry and Meghan Markle's wedding? I would love to see this child's candid reaction to all royal weddings, honestly.
Although the entire royal wedding guest list has not been released, it's very likely that Grace Van Cutsem will attend Prince Harry and Meghan Markle's wedding, according to People. Grace Van Cutsem's parents are Hugh and Rose (née Astor) van Cutsem, and a friendship between The Cutsems and the royal family goes way back (Prince Charles and the elder Hugh van Cutsem were close friends, according to Hello! Magazine). William is also a godfather to Grace, so she will probably be invited to the festivities, as further noted in People. Basically, it's almost a given that they will be in attendance for these nuptials.
However, it's unlikely Cutsem will have the same reaction to this wedding, because she's no longer a toddler. As her mother Rose Astor's Instagram shows, Grace, who is now 10, appears to lead a pretty great life. She even has two younger brothers now. And having served as a bridesmaid at least 11 times, as noted in Elle, Grace is probably a total pro at the whole wedding attendant business at this point. Chances are, there won't be any meme-worthy grimaces from Grace this time around. (But I'd love a surprise scowl.)
But don't worry: there will likely be plenty of little kids on hand to potentially provide comedic relief at Prince Harry and Megan Markle's wedding. Kate and William now have three children under the age of five. There is the 4-year-old Prince George of Cambridge, the 3-year-old Princess Charlotte of Cambridge, and the newborn Prince Louis of Cambridge. Although Prince Louis will stay in for the big event, it looks like both Prince George and Princess Charlotte will attend Prince Harry and Meghan Markle's wedding, as noted in People. Even with the whole world watching, these kids are bound to, well, act like little kids. If you've ever corralled a toddler at a wedding, then you know it's an exhausting task. No amount of prep work can make a threenager suddenly behave like an adult for the event, even if the child is a legit prince or princess. It's part of what makes kids so delightful.
At a time when adults-only weddings are not uncommon, it may seem strange to let the little ones play such an important role in a major event. But involving children in the ceremonies, for better or worse, has a longstanding history. It's a British wedding tradition to have children as bridesmaids, as well as flower girls and pageboys, according to Elle. The American tradition of choosing your closest friends as attendants is not necessarily the norm the world over.
"If you look at the royal weddings since Elizabeth's, you will find that most of the bridesmaids are early teens or children," said British and European royalty expert Marlene Koenig in Town & Country. In fact, when Catherine, Duchess of Cambridge, asked her sister Pippa Middleton to serve as maid of honor, Pippa was the first adult maid of honor since 1960, as further noted in Town & Country. For the royals at least, the wedding party is often a kid's affair.
Although there will undoubtably be some adorable and candid photos of the children at Prince Harry and Meghan Markle's wedding, it will be hard to top Grace Van Cutsem's iconic reaction to the 2011 royal wedding. Although she's now a wedding-going pro, no one can forget that gloriously grumpy reaction to Kate and William's big day.