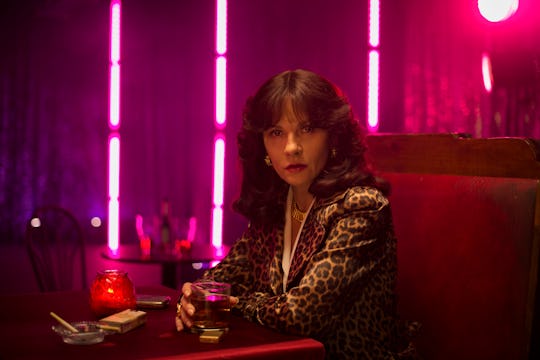 Lifetime
Catherine Zeta-Jones Tackles A Compelling Character On Lifetime's 'Cocaine Godmother'
In Lifetime's newest movie Cocaine Godmother:The Griselda Blanco Story, Catherine Zeta-Jones plays the drug lord Griselda Blanco whose empire grew over the course of two decades and spanned two countries. But is Griselda Blanco from Cocaine Godmother based on a real person? The details of her story may sound like they could only be fiction, but Blanco was indeed a real woman.
Griselda Blanco was known for her violence, having reportedly ordered the deaths of 40 to 200 people (estimates vary). That number included her three husbands Carlos Trujillo, Alberto Bravo, and Dario Sepulveda, according to People. She grew up in Colombia, where she met Bravo and became involved in trafficking cocaine, moving with him to New York to bolster their illegal dealings. After his death, which allegedly occurred at Blanco's hands during a shooting in Bogoté, she took over the entire operation on her own.
Zeta-Jones told Deadline that it was important to her "not to homogenize [Blanco] or find a sympathetic quality, because I don't think she had one. I applaud Lifetime and A+E. It would have been easy to rose-tint this story." But she went on to say that there was a certain appeal to Blanco, because there was "something fantastic about how she was the boss in a dangerous man's world. You gotta give it to her. I remember saying as bad as she is, I'm going to make people kind of like her."
Blanco was known for using certain tactics that allowed her to have vast quantities of cocaine smuggled between Colombia and the United States. She would employ young women as her drug mules and outfit them in specially designed bras and girdles that had secret pockets in which cocaine was stored. That allowed them to bring pounds of the drug into the country on flights. According to The Sun, one such corset was once found in Miami International Airport with seven pounds of cocaine hidden in 58 separate compartments.
Blanco became massively successful and incredibly rich, but she was also endangering and harming countless people. Retired Miami police detective Al Singleton told The Sun, "Some people thought that Blanco felt she had to be more violent because she was a woman in a man's world, but I don't. I've been told by people who were close to her that this was just Griselda Blanco's nature."
She was arrested in 1985 on drug charges and while she was serving time, she was also indicted on three charges of murder. There was a chance that she could receive a death sentence, but the case went awry due to a scandal involving one of its most important witnesses. A hitman who worked for Blanco named Jorge Ayala had given detectives much of the information they needed, according to the Miami Herald. But while imprisoned, Ayala had also been having phone sex with two secretaries at the Miami-Dade state attorney's office. Because he was a key witness and the secretaries could access important files on the case, the entire thing was compromised.
Instead of a death sentence, Blanco received 20 more years behind bars but served much less. She was released in 2004 and deported to Colombia, where she lived until she was murdered in 2012. She was 69 years old when she was shot twice by men on motorcycles while at the butcher shop with her pregnant daughter-in-law.
Cocaine Godmother takes its title from one of Blanco's many nicknames. She was also called simply La Madrina (the Godmother) and the Black Widow, because of the deaths of her husbands. Her story is a complicated and compelling one with many horrifying turns, and interested parties can see how Lifetime tackles it on Jan. 20 on Lifetime.
Check out Romper's new video series, Romper's Doula Diaries:
Watch full episodes of Romper's Doula Diaries on Facebook Watch.