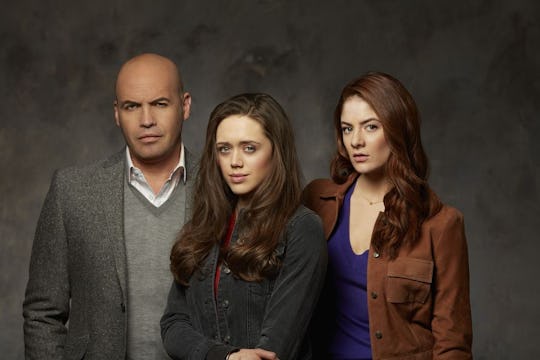 Criag Sjodin/Freeform
Is 'Guilt' Based On A True Story? The Plot Seems Very Familiar
Freeform's new drama, Guilt, is set to be a summer hit. The show follows Grace Atwood (Daisy Head) who becomes the primary suspect in the murder of her roommate, Molly Ryan, and a target for the press and people on social media. Grace's sister, Natalie (Emily Tremaine), leaves her home in Boston to go to London to defend Grace, but the more Natalie learns about her sister and the case, the more Natalie wonders just how deep her family is involved in the crime. Filled with drama and a mysterious murder that involves various aspects of London life, including the Royal Family, this show has already drawn in a huge fanbase. But is Guilt based on a true story?
Many people think so. It's very easy to see the similarities between the Guilt storyline and the true story of the Amanda Knox case. If you don't remember Knox or somehow missed it, Amanda Knox was an American college student who was studying abroad in Italy when she was convicted of murdering her roommate, Meredith Kercher. Knox spent four years imprisoned in Italy before she was eventually acquitted of the crime and allowed to go back home to America. It's hard not to the see the parallels between the Amanda Knox case and the premise of Guilt.
Although the show takes place in London instead of Italy, Grace is still an American college student, studying abroad, who's roommate gets murdered, and ends up becoming the primary suspect. Despite these similarities, according to E! News, Guilt is not actually based on the Amanda Knox case. The show just happens to be very similar to the Amanda Knox case but it's not meant to be a fictionalization of those events. Whether you believe this to be true or not it'll be hard not to compare the show to the real life case.
No matter how the premise of the show came to be it's still a very good one. Filled with drama and shifty characters that can't be trusted, Guilt keeps fans on the edge of their seats. If you haven't already dived into the world that is Guilt you should definitely check it out. You won't regret it.