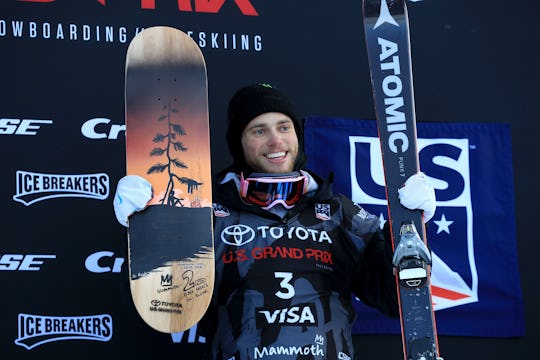 Sean M. Haffey/Getty Images Sport/Getty Images
Is Gus Kenworthy At The Opening Ceremony? He's Proud To Represent Both His Country & The LGBT Community
Skier Gus Kenworthy certainly isn't an Olympic Games newbie: the seven-time world champion earned a silver medal at the 2014 Sochi Winter Games, and now, he's ready to leave his mark in PyeongChang. But after coming out as gay in 2015, Kenworthy is also making history for being only the second openly-gay man ever to represent Team USA at the Olympics, according to TIME. So of course, everyone wants to know if Gus Kenworthy is at the Opening Ceremony. The 26-year-old athlete is definitely a fan favorite, both for his talent and for being an outspoken advocate of LGBT rights. Olympic viewers may have already watched Kenworthy compete in his first event, men's moguls, Thursday, but on Friday, Kenworthy joined the rest of Team USA to walk to Parade of Nations — and even shared some behind the scenes Olympic footage on Instagram.
This year, Kenworthy will be competing in freeski slopestyle, according to NBC Sports, after placing second at the final Olympic qualifier. And while his debut Olympic effort was already impressive, there's no question that fans will be rooting for him to pick up his first gold medal and land on top of the podium in PyeongChang. Could it happen? It's totally possible. And although that might be a lot of pressure on his shoulders, Kenworthy definitely seems up to the challenge.
Ahead of his arrival in South Korea, Kenworthy discussed the significance of being an openly-gay Olympic athlete, and said that it actually gave him even more motivation to win gold. He told The Advocate,
I didn't want to come out and for people to be like, 'Oh, he competes in the sport and he does OK. I want to be the guy that's taking names, on the podium, and winning events.
So far, he seems in a pretty good position to do just that — Kenworthy actually placed number one in the overall Olympic qualifying standings for slopestyle. But it hasn't all been smooth sailing. While Kenworthy had hoped to make both the slopestyle and the halfpipe team, according to NBC Sports, a crash during his final run in the qualifiers meant he didn't make the cut.
Even regardless of his performance though, Kenworthy has already left his mark by choosing not to hide his sexual orientation this time around (he hadn't yet come out when he competed in Sochi). As for his role model status, Kenworthy told The Advocate he's totally here for it:
I hope that any gay kids see me as beacon of light, not just in sport but in general. You can be gay and be proud of that and not have to worry about being unsuccessful or unaccepted. I did come out in an industry that could have been really not accepting, and I was at the top of my game, and it was a positive thing.
But that's not just lip service. During an appearance on The Ellen DeGeneres Show Monday, Kenworthy criticized the decision to have Vice President Mike Pence lead Team USA at the Opening Ceremony, according to Billboard, given his anti-LGBTQ stance. Kenworthy said,
To have someone leading the delegation that's directly attacked the LGBT community … it just seems like a bad fit. I feel like the Olympics is all about inclusion and people coming together, and it seems like it's not really doing that.
Although Kenworthy's criticism didn't affect Pence's role in PyeongChang, it still feels like a really important statement to make publicly — and it echoes similar comments from Kenworthy's teammate figure skater Adam Rippon, who is also an openly-gay Olympic athlete. In January, Rippon told USA Today Sports he "would absolutely not go out of [his] way to meet" the vice president at the games, and that it "is completely contradictory" for Pence to claim to be a devout Christian when he's supportive of Trump and his policies.
Both Kenworthy and Rippon have already proven that they are not afraid to use their unique platform at the Olympic Games to stand up for LGBT rights, and that's inspiring. But as Kenworthy now attempts to be both an LGBT icon and a gold medal winner at PyeongChang, it's definitely time to start cheering him on.
Check out Romper's new video series, Romper's Doula Diaries:
Watch full episodes of Romper's Doula Diaries on Facebook Watch.