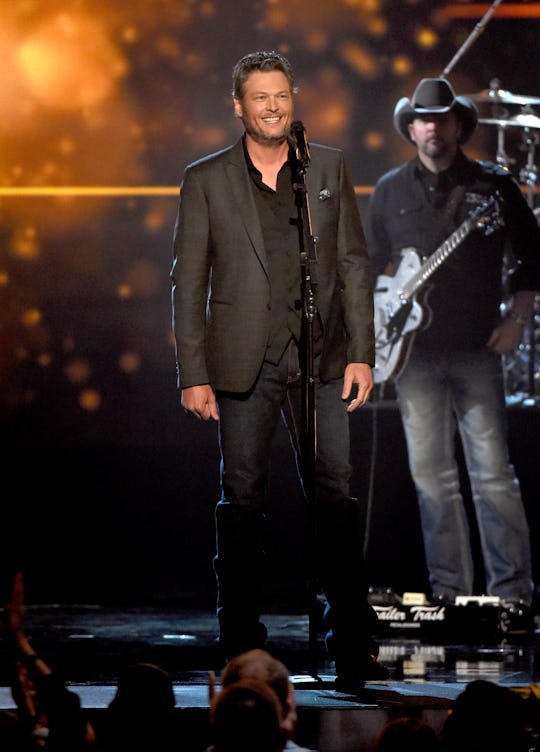 Ethan Miller/Getty Images Entertainment/Getty Images
Is Gwen Stefani At The ACM Awards With Blake Shelton? Fans Are Wondering Where She Is
Even though he's not hosting the awards this year, Blake Shelton still managed to open the ACM Awards on Sunday night with his ex co-host Luke Bryan. But what everyone (or was it just me?) really wanted to know was whether or not Gwen Stefani was at the ACM Awards with Blake Shelton or not. They didn't walk the red carpet together, and there were no gratuitous pans to her spot in the crowd, so the overall consensus on Twitter is that she ditched her main squeeze for the evening. That's probably a good thing. Stefani just released her new album This Is What The Truth Feels Like and performed on Saturday Night Live on Saturday in New York City. It looks like she was capitalizing on her East coast adventure and the release of her album since she's also slated to be on Good Morning, America Monday morning. She's a busy women these days— who has time to be red carpet arm candy?
Lest you think there is any beef at all between the two (here's looking at you, snarky Twitter), Shelton and Stefani seem to be just fine and into supporting each others' independence, as they've both taken to social media to comment on the others' televised appearance.
Stefani rocked a sweet pair of shorts on SNL Saturday night, and Twitter was all about them. Even Shelton chimed in, reminding her to "Please wear space pants when you get back home!!! Ha!!!!" via a tweet. She responded with a pic informing him that they were already packed. Talk about #relationshipgoals.
As Stefani has been making the rounds promoting her new album, Shelton has been tweeting about all of her successes along the way. Likewise, after his album was released in early March, Stefani took to social media to sing his praises. She even went on Snapchat during one his concerts to gush, and has FaceTimed his other gigs in the past. Seriously, these two are just too much.
From the looks of their dynamic, on social media at least, Shelton and Stefani are pretty darn cute. Even if she couldn't be at the ACMs in person Sunday night, I'm guessing she was there in spirit. Even though they've been officially dating for a few months now, it looks like they've taken their respective heartbreaks — Shelton and fellow country star Miranda Lambert announced their divorce last June, and Gwen Stefani and ex-husband Gavin Rossdale split in August — as lessons to be learned. Taking things easy and giving the other person enough room to be themselves is a good way to make something last. Keep at it, you two.