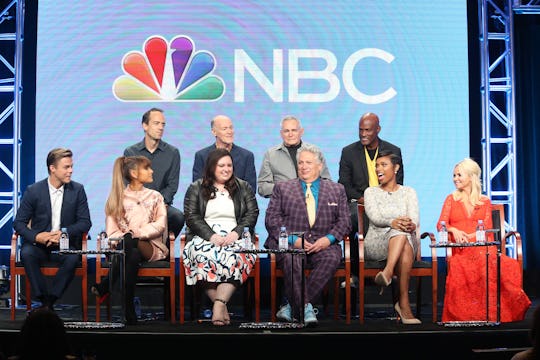 Frederick M. Brown/Getty Images Entertainment/Getty Images
Is 'Hairspray Live!' On NBC Really Live? The Cast Tackles A Musical With On-Screen History
NBC revived the genre of live televised musical specials with its 2013 production of Sound of Music Live, and, ever since its success, NBC and other networks have kept live televised musical productions in the pipeline. In 2014, NBC produced Peter Pan Live. In 2015, it was The Wiz Live, and earlier this year, FOX jumped on board, too, with Grease Live. FOX, however, also bent the genre with this past Halloween's Rocky Horror Picture Show tribute, which was pre-recorded and not broadcast live. So some folks may be wondering: is NBC's Hairspray Live! really live? Like its title suggests: yes it is.
As with NBC's previous holiday season-pegged musical productions, Hairspray Live! will be a rehearsed-in-advance, fully choreographed, and live-sung production that airs in real time as the actors perform it on a soundstage. Although the performers very clearly lip-synced "You Can't Stop The Beat" for their Macy's Thanksgiving Day Parade preview performance, they will be singing along live when the special officially airs. The cast did, however, record the tracks before staging the show, presumably to use for rehearsals, as much as for the cast album. Unlike with most musicals, the 2002 Broadway production of Hairspray was actually based on the 1988 film, which was also a musical comedy. So there's a good precedent set for Hairspray to work on screen. Fans may also remember the Nikki Blonsky- and Zac Efron-starring 2007 film remake.
Both the 1988 film's original Tracy Turnblad, Ricki Lake, and the Broadway musical's original lead, Marissa Jaret Winkour will make cameo appearances in NBC's live production. The role of Tracy will be played by newcomer Maddie Baillio, with stars like Derek Hough, Garrett Clayton, Harvey Fierstein, Jennifer Hudson, Ariana Grande, and Kristin Chenoweth supporting her. The Hairspray Live! cast appears to have a good mix of Broadway veterans, pop stars, and TV performers in the mix, which hopefully means a collaborative skills share went down behind the scenes to improve everyone's work in a challenging medium.
Alex Rudzinski, who directs Dancing With the Stars and won two Emmys for directing Grease Live, will be at the helm c0-directing Hairspray Live!, along with Kenny Leon, who directed The Wiz Live, won a Tony for his direction of the 2014 Broadway revival of A Raisin in the Sun, and was behind the 2012 Lifetime remake of Steel Magnolias. Jerry Mitchell is set to choreograph and Fierstein also helped with script adaptation for the live televised musical. So the way I see it is, this production is almost destined to a be a guaranteed success.