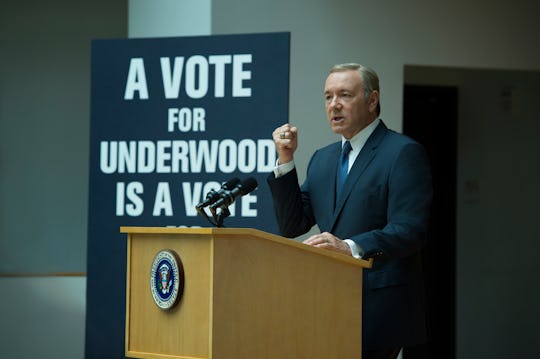 Netflix
Is Hammond University Real? The 'House Of Cards' Assassination Attempt Isn't Very Realistic
Early on in season four of House of Cards, Frank Underwood is shot during a campaign stop at Hammond University, in Washington, D.C. But is Hammond University real? Not at all. Which is interesting, because House of Cards usually tries to be pretty realistic in mirroring real-life America. They even use Wolf Blitzer of CNN in some important moments to show when some scandal is taking over the news cycle. But there is no college or university named Hammond in D.C., although there is a Hammond, Louisanna, which is the hometown of publicly funded Southeastern Louisanna University. So it's more of a mashup location than anything else.
Setting the assassination attempt in D.C. though was important for a few plot points. To start, his campaign stops are very realistic and follow the actual flow of the American primaries. If you recall, season three ended with Frank beating Heather Dunbar in the Iowa caucuses. Season four picks up in New Hampshire and takes them to South Carolina. Just like in real life. Supposedly then, Frank is gearing up for his own Super Tuesday. Washington D.C. doesn't vote on Super Tuesday, but usually later in the year (in real life, the District's primary is on June 14 this year).
As politicians do, though, he's just fitting in as many appearances and rallies as he can. Hopefully some of those students are voting absentee in their home states. The hospital to which Underwood is transported to isn't real either — Jefferson Memorial Hospital doesn't exist in D.C. (though there is one in Philadelphia.) If a President is sick while at the White House or in town, he'd probably go to the Walter Reed Medical Center or one of the university hospitals. When President Obama had a sore throat a few years ago, he was whisked away to Walter Reed. But judging from the set — Jefferson Memorial looks like the kind of fancy hospital fit for a president.
However, in holding up the "be as realistic as possible" ethos, the news report of Underwood's shooting is done by another famous anchor, former Good Morning America and World News' anchor Charlie Gibson, who on House of Cards is seen hosting the international KBTG News hour (a fake news program).
Gibson aside, it's possible that House of Cards wanted the rest of the settings to be as fake as possible — in the Internet age it would be easy to record Wolf Blitzer fake reporting the news of an assassination attempt on the American president and pass it around. There might be a reason they save CNN for later when they're reporting on identifying a fake suspect, right? Netflix doesn't want a War of the Worlds situation on their hands.
But there are lots of unrealistic plot points and improbably settings on television. If Frank was talking about Georgetown University, for example, we'd all be complaining that it would be unlikely security was so lax on such a huge campus, right? Just because House of Cards seem eerily probable, that doesn't mean they don't need fake settings sometimes. Just roll with it.
Correction: An earlier version of this article stated that the KBGT news anchor reporting the assassination attempt was a "fake" character, rather than former 'Good Morning America' anchor Charlie Gibson. It has been updated to reflect those changes, and we regret the error.