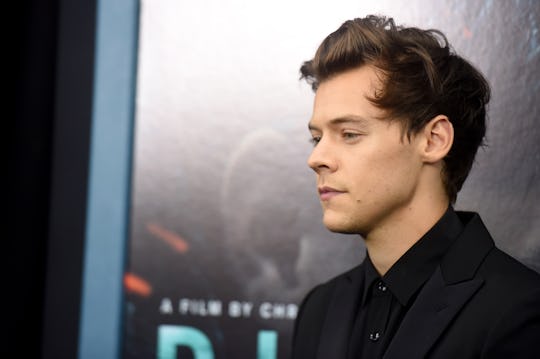 Jamie McCarthy/Getty Images Entertainment/Getty Images
Here's Why You Should Expect To See Harry Styles At The 2018 Golden Globes
Although many of us know Harry Styles from the band One Direction, he made some moves in Hollywood this year. The film he appeared in, Christopher Nolan's Dunkirk, is up for a new Golden Globe nominations, so it's highly likely that Harry Styles is attending the 2018 Golden Globes. As if it already weren't one of the biggest nights in Hollywood, Styles' attendance definitely makes it a not-to-miss event.
Styles himself isn't up for his performance in the film, though he did get some good reviews. The World War II film is up for Best Original Score, Best Director, and Best Motion Picture. So the camera might pan to Styles clapping for his director in the crowd or take the stage with the ensemble cast if it wins, but he'll likely be there. Or at least, I'd be extremely surprised if he wasn't.
The pop star-turned-actor attended the big premiere of the film in New York City and he took part in the international press junket for the film, adding his star power to the already buzzed about movie. So there's a good chance he'll come out and support his cast and crew at Sunday's award show, too.
People were very impressed with the way Styles transitioned from teen heartthrob to a potentially award-winning actor with his role as a British soldier in Nolan's epic film about 300,000 soldiers stuck on a French beach.
In case you haven't seen it yet and are looking to binge on Styles' performance this weekend, you have to know one thing. There's not a whole lot of dialogue in this film, but when Styles speaks, it's magic. According to CNN, that might have been a smart choice for a singer making the transition to film. It's not easy. Sandra Gonzalez over at CNN wrote:
Dunkirk is not the best gauge for his potential beyond that — if he has the chops to reinvent himself as Mark Wahlberg, Queen Latifah or Will Smith have in the past. But it's certainly enough to score him another role.
That's actually a pretty stellar review when you consider how tough film critics can be. Given that Rolling Stone called the World War II film "the greatest war movie ever," it was definitely not a bad project for Styles to be attached to. Even if he just has a few lines here and there in the movie.
According to Gold Derby, Styles auditioned for the part of Alex alongside hundreds of other actors and Nolan wasn't aware that he was such a huge draw for fans. So he got the part on his acting talent alone. Which shouldn't be too much of a surprise, since Styles has apparently been thinking about acting for some time now. "I started acting when I was younger in school," Styles told reporters at a screening of the film, according to Vanity Fair. "I've always liked it, and have always been a massive fan of movies. When I heard about this, I just wanted to be involved. It's an honor to be a part of this important story."
The film also stars Mark Rylance, Tom Hardy, Cillian Murphy, and Kenneth Branagh, which is why some of his other co-stars, like Fionn Whitehead, told Seventeen that the emphasis on Styles being in the movie has gotten out of control. He said on the red carpet in New York;
I think the hysteria — [perhaps] it should have been expected when you take a figure like that and give him a short back and sides and put him in a uniform. I think it's got a bit silly really. The meaning has got lost somewhere along the way and people have stopped realizing there's an amazing cast — including Harry — but there's, you know, the creme de la creme of actors.
He added, "I think the focus should not be Harry Styles doing a movie, it should be on the piece in general or his ability to act. And he's great."
Um, of course he is. So prepare to watch Styles walk the red carpet at the Golden Globes this year. He wouldn't miss this, would he?
Check out Romper's new video series, Romper's Doula Diaries:
Watch full episodes of Romper's Doula Diaries on Facebook Watch.