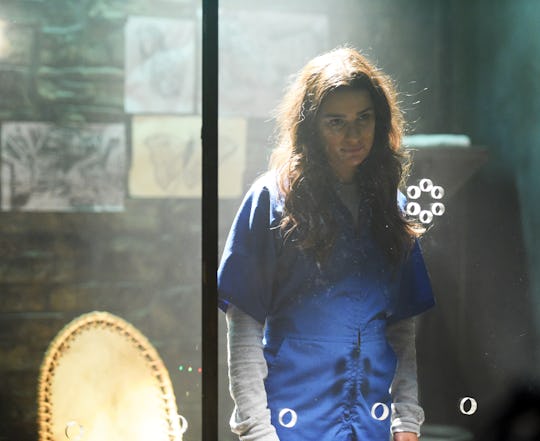 FOX
Is Hester The Green Meanie On 'Scream Queens'? It Could Really Be Anyone
It looks like we have a new serial killer on the loose on Scream Queens, and like the Red Devil from Season 1, this killer favors an elaborate costume. This time he/she is big and green with horns and leaves a trail of green goo when he/she walks. Viewers are already formulating theories as to who it could be. For example, is Hester the "Green Meanie" on Scream Queens? Well, she might be.
Hester is officially back in action this season, after episode one informed us that she had been caught confessing in a Brandon Dassey of Making a Murderer styled police interview, and then hauled off to prison. The crew, headed by the Quantico-loving detective played to perfection by Niecey Nash decide to try to get in the head of the killer, or rather, "under the weave of the killer" by visiting their very own pet psychopath, Hester. The whole scene is an ode to Silence of the Lambs, from the motivation behind it, to her cell, the illustrations on the wall, and her very Hannibal Lecter-esque pining for a view of the outdoors. When they ask her about the Green Meanie, she at least definitely makes it seem like she knows who it is. But all she'll say is that whoever it is is right in front of them. Could Hester possibly be referring to... herself?
Well, this is Hester, and this is Scream Queens so anything is possible. But Hester has been locked away in a small, windowless cell for the past few years, which, as far as alibis go, is pretty solid. It's also a little unclear as to why Hester would want to kill patients of Dean Munsch's C.U.R.E. institute. Once again, she's been locked in a cell, so what could she possibly have to do with this new hospital? Of course, none of these can definitely rule Hester out either.
In fact, the only person I feel comfortable ruling out right now is Chanel Number 5, due to the fact that she was almost murdered herself, while trapped in that bathtub. Denise Hemphill thinks it's Zayday, and the internet thinks it could be Kirstie Alley's character, Nurse Hoffel or maybe Taylor Lautner's Dr. Cassidy. It's a new day at this hospital and anybody could be the killer, and anybody could be the next to go.