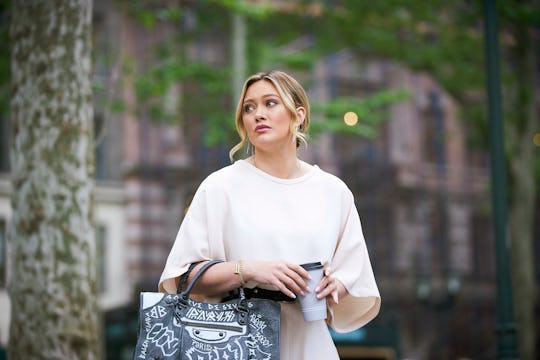 TV Land
It May Be The End For Kelsey Peters On 'Younger' & I Want To Cry
Kelsey Peters wrote a letter of resignation from Millennial Print in all capacities on a recent episode of Younger. When I was done drying my eyes I wondered — does that mean Hilary Duff is leaving Younger, too? Duff plays Kelsey on the show, and a letter of resignation is pretty final. Add to it the fact that Disney+ recently announced that Duff would be reprising her role as the title character on Lizzie McGuire in a reboot to premiere on the streaming service this fall and things don't look good for me and other Younger fans. But sometimes signs are wrong, so I did some more digging.
"I just thought that there was an opportunity there for [Lizzie McGuire] to be grown up and for her to be there for women again," Duff recently told People about revisiting the role that made her a household name. That's great, but Kelsey has been there for me for six seasons of Younger so far and she hasn't had to do much growing up, thank you very much. Take a big deep breath out for me, Younger fans. Kelsey may be doing some soul searching right now, but Duff is staying on Younger, Deadline reported. TV Land and its parent company Viacom signed a waiver that allows Duff to do both shows. So TV gods do exist.
Now that the most pressing matter is settled, I'll tell you more about the Lizzie McGuire reboot, because I'm pretty excited for that, too. Duff told People she's been approached about a reboot of the show for years, but she's happy she waited to commit. "I think it's the right time to set back in and have her go along with you in your 30s and all the fun times, and all of the big monumental moments, and all of the challenges that you're faced with," she told the outlet.
The timing may be right, but that also means the pressure is on. "I'm not gonna lie: I'm a little intimidated," Duff continued. "I'm like, 'Where is she in there?' She is in there; she is me."
Duff's other alter ego, Kelsey, is not quite as sure of her future as Lizzie. Thanks to an unfortunate video leak on social media, she stepped down from her role as publisher at Millennial to keep investors interested and save the company. It's sad, but also the exact move a boss like Kelsey would make. I'm just hoping Liza (Sutton Foster) comes through with a plan to fix everything. How can a publisher called Millennial exist without a Millennial at the helm?
But Kelsey is not the only character on the show with some serious issues going on. Liza's work life might be in balance right now, but she definitely threw her personal life off with that letter telling Josh she could no longer be in his life. I've always rooted for Josh (Nico Tortorella) and Liza, so this move seems harsh. But it's all about to get more complicated because Charles (Peter Hermann) is about to ask Liza to Scotland, according to a sneak peak clip obtained by Entertainment Weekly. Can she leave Josh behind so quickly for a Harry Potter convention with her daughter and Charles' kids? I hope not.
The Season 6 finale of Younger airs Sept. 4 at 10 p.m. ET on TV Land.