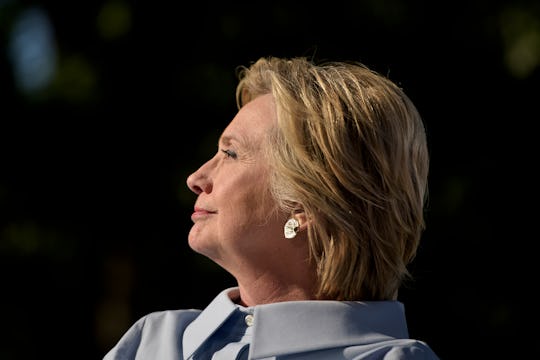 BRENDAN SMIALOWSKI/AFP/Getty Images
Is Hillary Clinton Still Ahead In The Polls? There Are Only 8 Weeks Until The Election
With less than two months until the U.S. presidential election, the candidates have begun the final push to the ballot boxes in the November. On Monday, Republican nominee Donald Trump traveled to Baltimore, Maryland and Asheville, North Carolina, while Democratic candidate Hillary Clinton has put a pause on her campaign event schedule as she recovers from pneumonia. Clinton was scheduled for a two-day event in California starting Monday. With this recent setback, is Hillary Clinton still ahead in the polls?
According to a new poll from The Washington Post and ABC News, Clinton is ahead of Trump by slim margin of only 5 percentage points, with 46 percent of likely voters favoring Clinton to Trump's 41 percent of likely voters.
The Washington Post accounted "lagging interest among some of [Clinton's] supporters" for the slim margin between the two most prominent candidates. On Sunday, Clinton left early from a 9/11 commemoration ceremony in New York. Her doctor later revealed she is currently battling a bout of pneumonia and is taking antibiotics. This comes just a week after an intense coughing spell at a campaign event in Cleveland, Ohio — and the medical episode only spurned on her opponent to question her fitness for office. At a campaign rally in Ohio, Trump questioned the crowd if Clinton looked "presidential" enough to "get the job done."
Meanwhile, a Reuters/IPSOS poll from last Thursday has Clinton leading Trump by nearly 50 electoral votes, with an 83 percent chance of winning the general election on November 8. But if you ask Trump, he seems to think he's in a far better position in the polls. Last Monday, Trump tweeted that he was up 3 points in Ohio 46 to 43, according to a FiveThirtyEight poll. The only problem is that FiveThirtyEight doesn't conduct opinion polls, contrary to common misunderstandings. Nate Silver, editor-in-chief for FiveThirtyEight, took to Twitter to quickly point out Trump's error:
As it turns out, Trump was citing an older version of the Reuters/IPSOS poll noted above; To his credit, Trump corrected his graphic with proper attribution, which Silver thumbs-ed up on Twitter (aka, saying thank you without having to actual type those words to the Don):
As Clinton recuperates from pneumonia, it will be interesting to see how her illness affects her poll numbers in the coming days. She's missing important campaign stops, so she might have to pull double duty in the coming weeks once she's back on her regular campaign schedule to make up for lost events.