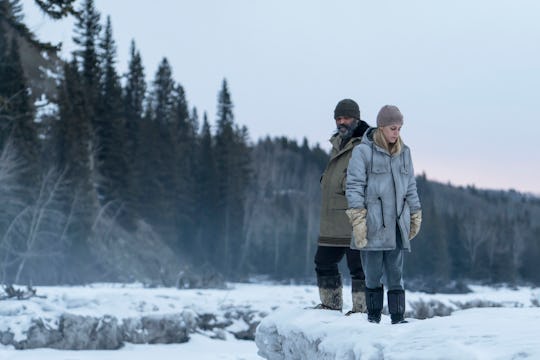 David Bukach/Netflix
Netflix's New Film 'Hold The Dark' Tells A Grim & Brutal Tale
Dark stories can be thrilling, especially when they are inspired by real events. In Netflix's new film, Hold the Dark, after a little boy is killed by wolves in his Alaska town, his mother Medora Sloane (Riley Keough) asks Russell Core (Jeffrey Wright) to track the wolves and bring home her son's remains. The premise is chilling yet plausible, so people are wondering, is Hold the Dark based on a true story? The movie is based on a purely fictional novel of the same name, but its premise was loosely inspired by a real event.
The 2014 novel, Hold the Dark was written by William Giraldi, author and editor for Boston University's AGNI journal. He tells Romper that his inspiration for the story came from a news article that left him astounded. "I remembered reading a newspaper story somewhere about an isolated, mountain village in Pakistan that had experienced wolf attacks, wolves that stole children. How impossible that sounded to my sensibility," explains Giraldi. "I was so drawn that story, to the otherworldly and mythic quality of it, that I knew I had to craft my own story from it."
Giraldi says that he knew he wanted to write a story about a wolf attack on a village and explore how things would unfold after it, but he preferred to tell it as an American tale. "Of course it had to be an American story, but set in a place of frigid mystery, a perilous place of secrets, but a locale of tremendous beauty, too," he explains. "The locale needed to become a character of its own." So Giraldi set his novel in Alaska, a place he calls the "last great untamed American landscape," citing its mystery and remote expanse. "It is a place that fosters imagination, and I think of myself as imaginative novelist, not an autobiographical one."
Classic American literature is embedded with stories about wolves, creatures that symbolize both strength and fear, and which Giraldi calls "our most mythologized animals." He says that stories like Jack London's The Call of the Wild and Whitefang have stayed with him since he was a child, and he drew on their influence when writing Hold the Dark. But along with telling a story of man versus nature, Giraldi's story deals with the deep emotional conflict within human nature itself.
In his novel and the new Netflix film, the boy's father, Vernon Sloane (played by Alexander Skarsgård in the movie), is away at war in Iraq, and after returning home to find that his son has been attacked and killed by wolves, his grief and anger turn into vengeance. Giraldi says that two novellas — Thomas Mann's Death in Venice and Joseph Conrad's Heart of Darkness — inspired the dark emotional arcs of his story. "Both of those novels are brief punches to the gut, unrelenting in their intensity and their confrontation with desire and death," says Giraldi. "I wanted to do the same, but with this story of wolves in Alaska and a mother who maybe has killed her child, and the husband who goes psychotic with retribution and grief."
Hold the Dark tells a grim and brutal tale, and while the story itself is completely fictional, its inspiration comes from real life events. After reading about reported wolf attacks on a Pakistani village, Giraldi was inspired to tell a similar fictional story, incorporating his own literary style and influences. His novel was adapted into the new Netflix film by screenwriter Macon Blair and director Jeremy Saulnier.
Hold the Dark premiered on Netflix on Friday, Sept. 28.
This article was originally published on