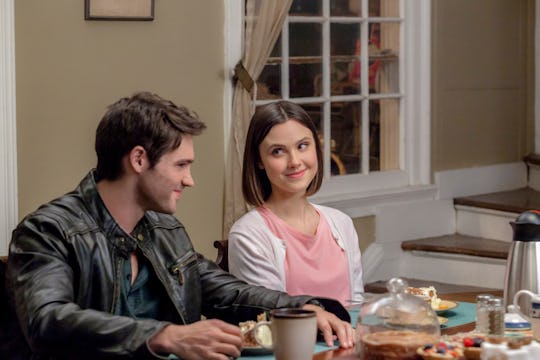 Bonnie Marquette/Hallmark
Hallmark's 'Home By Spring' Will Give You The Warm & Fuzzies
Who doesn't love a good Hallmark movie? Yes, they're often a little ridiculous but they are uniformly feel-good and you can usually be sure of a happy ending. Now that it is officially spring in North America, the channel has released a new lineup of spring-themed Hallmark movies, including Home by Spring which premieres on Saturday March 31. If you're wondering if Home by Spring is based on a true story (because wouldn't it be lovely if things like this happened in real life), I'm sorry to say there's no evidence that it is. But that doesn't mean it couldn't happen.
The official description of the movie reads:
When an ambitious event planner gets an opportunity she can't refuse, she goes undercover as her boss and returns to her rural hometown. With the help of her family and the man she left behind, she pulls off the perfect spring retreat, but will she discover home is where her heart is?
Hey, I'm no expert, but something tells me she will indeed discover where her heart is. The plot of an ambitious and successful woman returning to her rural roots and reuniting with an old lover is hardly new (Sweet Home Alabama anyone?) but that doesn't mean there couldn't be some truth to it.
According to the movie's IMDB page, it was written by Eric Brooks. Brookes has written some other small movies, including You're Gonna Miss Me, and A Country Christmas. All of these movies, including Home by Spring star country music star Kix Brooks, who, after a fair amount of online sleuthing, I've determined is likely his father. (In one profile on Kix Brooks's marriage his son, Eric, is mentioned). The two are part of the production company Team Two Entertainment, where they make movies like the ones just described.
On the official site for Home by Spring, Eric talks a little bit about watching his writing come to life on set and with the actors, saying that on the page they don't feel quite real until they are brought to life by an actor. "I am in such awe of what actors do because they become real people," he said, adding, "Even when I'm writing in my head they still feel sort of like caricatures or figures, and actors bring so much creatively that I don't know if they get enough credit for it."
Home by Spring stars Elena Gilbert's little brother Jeremy — sorry, I mean Steven R. McQueen as hunky hometown heartthrob Wayne, and Poppy Drayton, best known for The Shannara Chronicles as the ambitious young event planner just come home from L.A. The previously mentioned Kix Brooks as a character called Arthur Wellerson on IMDB, who from the previews appears to be a father figure to somebody. He also takes the opportunity to unveil Brooks' latest single, "Bring it on Home," in a very natural bonfire setting in the movie.
I don't know if any of this is what you could fairly call "realistic" but it is awfully warm and fuzzy. And honestly, when you're watching a Hallmark movie are you really watching for the careful adherence to naturalism and realistic themes? No you are watching to see a feel-good romantic comedy that won't make you cry and there is absolutely nothing wrong with that. Now, if you're from a small Southern town and moved to the big city to focus on your career, I urge you to return home and reconnect with your high school sweetheart and tell me how it goes. Then maybe we'll get an idea of how realistic this movie really is.
Check out Romper's new video series, Romper's Doula Diaries:
Watch full episodes of Romper's Doula Diaries on Facebook Watch.