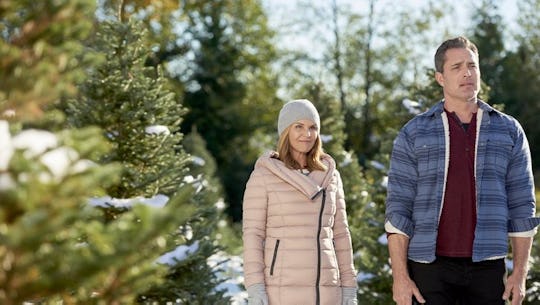 Hallmark/Crowne Press
'Homegrown Christmas' Will Have You Asking "Where Have I Heard This Before?"
There are a ton of movies out there that have been inspired by a book or adapted from one. During the holidays, that's no different. Some of those unbelievable made-for-TV movies have the backstory of real people, or have been taken from the pages of a beloved book. IMO, those movies are the best. Hallmark's lineup this year includes a few movies that have a familiar feel. So, is Homegrown Christmas based on a book?
It's not always easy to know if a movie is based on a book, because sometimes the name is changed (as are some of the details that might clue you in). However, it doesn't look as though Homegrown Christmas is based on anything other than someone's beautiful imagination. That doesn't mean there isn't a book out there with similar themes and characters; only that I couldn't locate anything specific. With Hallmark's Countdown to Christmas, a lot of the movies have the same baseline for plot and characters with details changed. Maybe it's an architect who goes back to her hometown and finds love, or maybe it's a CEO who goes back to her hometown and finds love. Holiday movies are for feeling good so there won't be a whole lot of tragedy unless it ends with hometowns and falling in love –and there's nothing wrong with it.
To compare the plot of Homegrown Christmas with any books you may have read, let me break it down. Maddie (played by Laurie Loughlin) is the CEO of a company and adored socialite. She's living her dream life and honestly couldn't imagine it any other way. Obviously life has other plans (as it typically does). Her world comes crashing down when her husband, the man she trusted, is suddenly arrested for insider trading. Ouch.
While some might continue trying to live that dream life despite the embarrassment, Maddie goes back to her hometown (!) to take personal inventory of her life and where it's headed. Maddie soon bumps into an old sweetheart, Carter (Vincent Webster). Though all is not well between them at first. With all the time that's passed, and how different Maddie's become over the years, the two can't get past the tension. Who could blame them? It's literally the perfect recipe for love. Just add snow and something they can work on together. When Maddie and Carter are put together to organize and implement the local high school's Christmas dance (see?), they work through those differences and begin to feel all those holidays feelings. And so will you.
Some of this could have been inspired by any number of Christmas books, but Hallmark is pretty good at making sure each original movie in The Countdown to Christmas has it's own take on any number of usual trope and story lines.
Maybe Homegrown Christmas isn't based on any one book in particular, but it could be a mishmash of a few notable books. Inspiration comes from many places. When it comes to Christmas, you can find it in the most unlikely of places. For now, it's in Homegrown Christmas.
This first-time mom wants to have a home birth, but is she ready? Watch how a doula supports a military mom who's determined to have a home birth in Episode One of Romper's Doula Diaries, Season Two, below. Visit Bustle Digital Group's YouTube page for the next three episodes, launching Mondays in December.