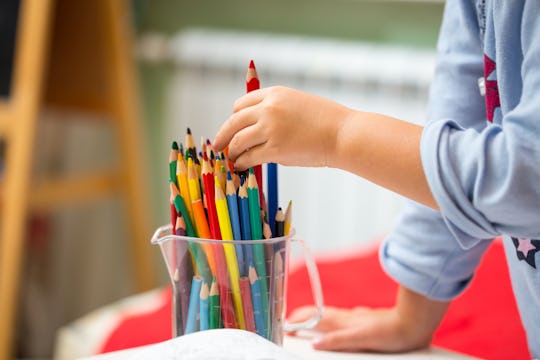 Maksim Kostenko/Fotolia
What Experts Have To Say About Homeschool Versus Public School Will Make Your Decision Easier
I'm about to sound like a grown-up with this next statement, but I feel like when I was a kid, the options for school were pretty cut and dry: you just go. But today, private, public, religious-based, and online schools give kids and parents educational flexibility. Some genius kids even go to college long before their elementary years are behind them. Of course, there's always homeschooling, and from what I hear, advances with community-based programs and online curriculums have put the kibosh on stereotypes associated with the schooling. But is homeschooling better than public schooling?
"Families choose alternative schooling options for a variety of reasons," says John Edelson, founder of Time4Learning, an online homeschool curriculum for K-12. "Some families want a lifestyle that gives them more control over their time. It could be that they simply want more time with their children or the flexibility to pursue family interests such as traveling."
Edelson says families also seek out homeschooling because they want more control over their children's education, for instance when a child is gifted and feels under-challenged in a public school environment. "More and more, we are also seeing families with concerns about bullying and school violence looking for online or homeschool," he says.
One of the advantages to homeschooling, Edelson says, is that it gives parents the ability to give their children an education based on their skill level. "If your child is a sixth grader, but excels at math, it's easy to make seventh grade math lessons available to him or her."
But does that mean homeschooling is better than public schooling? It really just depends on your family's situation and what works best for all of you. For Camille DiMaio, author of Before the Rain Falls, the decision to homeschool all four of her children came as a surprise, but was the result of her oldest daughter being an advanced reader by age 3. When the family toured both public and private schools, educators were all at a loss as to how to place her when she entered kindergarten.
"The only school that had an option we loved charged $10,000 for tuition," DiMaio says in an email interview with Romper. "So, I thought, 'I'll homeschool her for kindergarten' with the thought that we would revisit school in first grade. But we ended up loving it. The free time, the field trip time, the family time. It became a lifestyle that we have enjoyed ever since."
Since then, the family has explored the east coast and south, as well as Alaska, Hawaii, Italy, France, and England. "We feel that they each have a wide menu of experiences from which to draw inspiration for their future endeavors," DiMaio says of their traveling, adding that homeschooling has also allowed them to nurture each child's individual talents and strengthen each of their weaknesses.
"I had no idea when embarking on homeschooling how different each child would be from one another," she says. "For instance, our oldest, who is college-bound very shortly, was drawn to reading and writing. She excelled at those and had the time to pursue them deeply. And, she won a large scholarship to college based on an essay she wrote about Jane Austen."
DiMaio says discipline has kept her family on track with homeschooling, which means not taking too many days off for "fun stuff."
"We have overcome this by taking work with us while we travel and setting daily boundaries for either number of lessons or number of hours addressed in a day," she says.
Whether it's in the classroom or at home, sounds like another fantastic example of mom knows best.