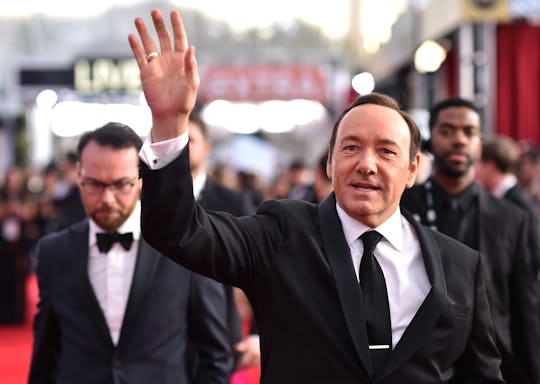 Dimitrios Kambouris/Getty Images Entertainment/Getty Images
Is 'House Of Cards' Renewed For Season 5? Frank Underwood Will Be Back
Season 4 of the Netflix series House of Cards premiered on March 4, so I'm assuming that superfans have managed to binge all 13 episodes over the weekend. President Frank Underwood (Kevin Spacey) is nearing the end of his first term, and everyone's gotten used to Neve Campbell occupying their screen for the first time since the '90s, so now the question is, will there be a Season 5 of House of Cards? There certainly will be! In fact, it was announced at the end of January, according to Deadline. Boy, Netflix sure does move fast.
There is going to be one big change in Season 5, however, and I don't mean that they're adding an invisible alien that only Frank can see. Creator and executive producer Beau Willimon will not be returning. This isn't necessarily a bad thing for the show; The Walking Dead is now on its third showrunner, and some might argue that the exits changed the show for the better (others might argue that they DGAF because they're only in it for the zombies, which have remained consistently awesome, thanks to Greg Nicotero). The point is, fans are there for Spacey, and Spacey's not going anywhere, so there's probably nothing to worry about.
Season 1 of House of Cards ushered in a new era for television, earning nine Primetime Emmy nominations– the first online-only series to do so. It's hard to believe that in just about a decade, the definition of a "web series" could go from goofy cartoon shorts like Homestar Runner to a political drama starring A-List actors, collecting piles of Emmys, Golden Globes, and Screen Actors Guild Awards. House of Cards legitimized Netflix. Without House of Cards, perhaps we wouldn't have Orange is the New Black, Sense8, Jessica Jones, or Fuller House... Uh, strike that last one. I can't pin that on Spacey.
Back to House of Cards. Season 4 saw Spacey's TV wife, Claire Underwood (Robin Wright) becoming an increasingly powerful character, which left fans wondering just how important Frank really is to the show anymore. Might the series start to echo the Clinton family, with Claire eventually running for president herself? Fans will have to wait a while to find out. While no official release date has been announced, Season 5 is set to premiere sometime in 2017, and if it follows tradition, will likely premiere in February or March. In the mean time, fans can get their Spacey fix with the absolutely batsh*t-looking movie Elvis & Nixon, premiering in April.