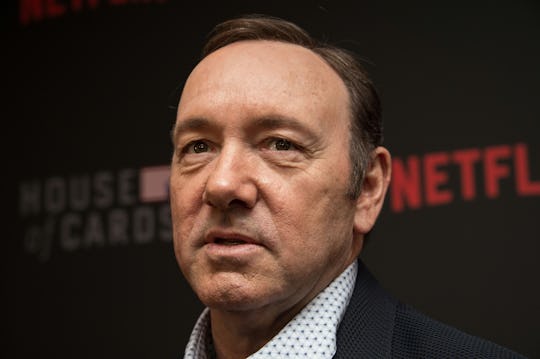 NICHOLAS KAMM/AFP/Getty Images
Is 'House of Cards' Season 5 The Last Season? Fans Don't Want It To End Anytime Soon
When House of Cards Season 4 premiered on Netflix, plenty of devoted Frank Underwood fans spent their weekends binge watching. If you've already finished Chapter 52, there's good news: House of Cards has been renewed for Season 5! Is House of Cards Season 5 the last season, though? It's unclear, but there will be one significant shift ahead for the show.
Showrunner Beau Willimon won't return for Season 5, Entertainment Weekly reported. Though it's unclear precisely why Willimon is leaving House of Cards, his IMDb profile suggests that he's writing and producing a TV mini-series, Jack Johnson. He's also credited as the executive producer on the documentary short Curt, and as producer on the documentary Westerly. Before House of Cards, Willimon wrote and co-produced 2011 political drama The Ides of March starring George Clooney and Ryan Gosling for the big screen. Since then, he's worked on all 52 episodes of Netflix's groundbreaking D.C.-set series. Willimon released a statement about his decision to leave the show, E! reported:
I'm grateful to Netflix and MRC, my fellow executive producers, our two incandescent stars Kevin Spacey and Robin Wright, our talented writers, as well as the incredible cast and crew with whom I've had the privilege to work. After five years and four seasons, it's time for me to move on to new endeavors, but I'm supremely proud of what we've built together, wish the show much continued success, and leave it in the hands of a very capable team.
Netflix also released a statement thanking Willimon for his work, according to Variety:
Netflix and MRC owe a tremendous debt of gratitude to Beau Willimon for his strong narrative vision for House of Cards over the show's first four seasons. As an Academy Award nominated writer, he made his first foray into television and built a riveting and critically acclaimed series, establishing his place in TV history. The producers, cast and crew join us in wishing Beau the best in his next creative adventure.
Critics met Season 4 with largely positive reviews. CNN's Brandon Griggs said that House of Cards found the perfect rival for Underwood in his wife. MTV's Inkoo Kang wrote that, despite that fantastic pairing, it's still difficult to root for HoC's politico protagonist:
With each passing year, all I want is for someone to finally take him down. I wanted it to be Claire for its poetic justice, but at this point I'm taking a page out of Mitt Romney's binder (politics, strange bedfellows, etc.) and declaring myself in the tank for Anyone But Underwood.
Whether you love or hate Underwood, it's hard to deny how easy it is to get hooked on House of Cards' brutally dramatic storylines. Season 6 may not be a sure thing, but Season 5 is set to pull fans in all over again, and if that happens, a sixth season seems more likely.