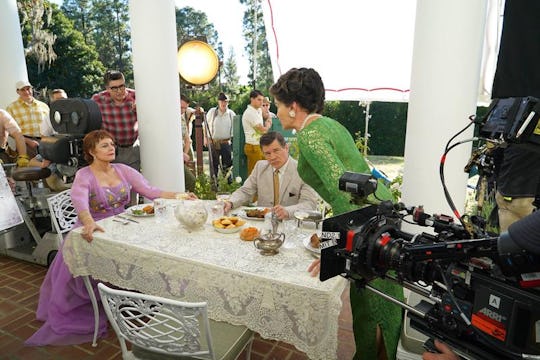 Byron Cohen/FX
Are 'Sweet Charlotte' & 'Baby Jane' Connected On 'Feud'?
It's bittersweet, in a weird kind of way, to have moved on from What Ever Happened to Baby Jane? on FX's Feud, the story of Joan Crawford and Bette Davis' legendary, years-long rivalry. The titular feud arguably reached its peak during the filming of Baby Jane — which is why the writers decided to set the bulk of the season during its production. But the story doesn't end with Baby Jane wrapping. Hush...Hush, Sweet Charlotte, the next begrudging team-up for the duo, is now starting to take center stage. But is Hush...Hush, Sweet Charlotte connected to Baby Jane?
Given the similarities between the two movies' names and their themes, it's no surprise that viewers assumed the two were related. Beyond the fact that both movies were set to have Davis and Crawford as rivals in the leading roles, each of the films centered on one of the two older women antagonizing, exploiting, and ultimately threatening the life of the other. At first, Sweet Charlotte was even called What Ever Happened to Cousin Charlotte?, mimicking Baby Jane's title format completely. The only major differences were that, unlike the two sisters in a Hollywood mansion of Baby Jane, Charlotte centered around two cousins and took place in the south.
It was Davis who was in favor of changing the title from Baby Jane author Henry Farrell's original, unpublished short story. "They had already composed a song for the film, and I liked it. It was sort of a lullaby that started off with 'Hush, hush, sweet Charlotte,' and I suggested that might be a better title," Davis said, a moment that was represented during the latest Feud episode, "Hagsploitation." Of course, it was very fitting that the same similarity to Baby Jane that Davis rejected instantly with her name change suggestion was one that was embraced by studio head Jack Warner, who only cared about reenacting Baby Jane's box office success.
Despite being written by the same person (Farrell) and having certain thematic and name similarities, Sweet Charlotte wasn't in any way a sequel to Baby Jane in the traditional sense. The two movies became even more distinct when Crawford eventually dropped out of filming, mid-production. The screen legend was replaced by another iconic actress, the only one who would agree to take on the role — Davis' close friend, Olivia de Havilland.
In that sense, the two movies became even more different, and Sweet Charlotte never came close to the same critical and commercial acclaim that Baby Jane won. Neither de Havilland nor Davis were nominated for Academy Awards (though their co-star Agnes Moorehead was). The movie did well financially, but not nearly as well as Baby Jane, which (as we've seen on Feud) virtually no one expected to be such a massive hit.