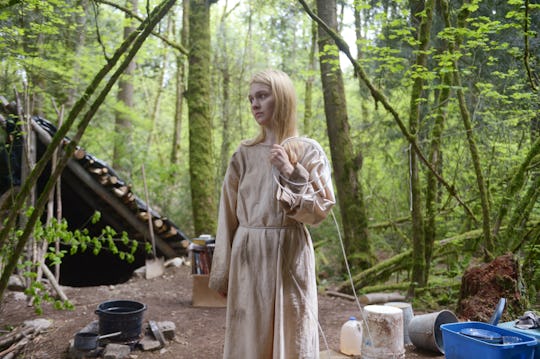 Sergei Bachlakov/Lifetime
Lifetime's 'I Am Elizabeth Smart' Tells A Harrowing Story
On November 18, Lifetime will tell the tale of a girl who was kidnapped from her home in the middle of the night and forced to endure months in captivity before making her escape from the nightmare situation. It sounds almost too horrifying to be real, but is I Am Elizabeth Smart based on a true story? If the name rings a bell for you, then you probably already know: the story for this Lifetime film is taken directly from actual events.
Though many Lifetime movies are inspired by real stories, this one lands closer to the truth than most. It was intended to mark the 15th anniversary of Elizabeth Smart's abduction, and it has her involvement on multiple levels. Described on the Lifetime website as the "definitive, authorized movie about the harrowing kidnapping," I Am Elizabeth Smart features the real-life Smart as both a producer and as an on-screen narrator telling her own story.
Smart was abducted from her bedroom in 2002 when she was just 14 years old. Her kidnapper was a man named Brian David Mitchell who brought Smart to a campsite in the woods he kept with his wife Wanda Barzee. It was nine months before Smart was able to be rescued, when callers tipped off the police after recognizing her and Mitchell in Salt Lake City. Following their discovery, Mitchell and Barzee were arrested. He was sentenced to two life terms, which he is still serving, and Barzee received 15 years in prison, with seven years already served.
Smart's story has been told before in various mediums, including made for television movies. The Elizabeth Smart Story first explored what happened to her, airing shortly after she was found and returned home. It was based on a book about the case written by Smart's parents, Ed and Lois, called Bringing Elizabeth Home. Smart would go on to tell the story herself, with the help of co-writer Chris Stewart, in My Story.
Now she has done so again in collaboration with Lifetime and A&E. According to Variety, Smart spoke at a panel during the Television Critics Association press tour about how much I Am Elizabeth Smart meant to her and how closely it stuck to what really happened. "I'm not apprehensive about what the audience might take away," she said. "It is the best worst movie I've ever seen. It was so well done. It was accurate, but at the same time, part of me will be happy if I never have to see it again. I'm very proud of it, but I hate it at the same time."
It was an incredibly difficult story to tell, and it took some time before Smart felt able to do so. At the same panel, she explained that upon her return home, she initially swore that she would never write a book or do a movie. She wanted what had happened to her "to disappear." However, as time went by, she began to reconsider.
"I started to become more involved in advocacy and meeting more survivors and people who were involved in similar things," she said, adding:
It's kind of my world now, and I realized I have an opportunity. I have a unique opportunity to share my story because there are so many survivors out there who struggle every day... They feel like no one understands what they're going through... I feel like I need to speak out because I can.
Smart has become an advocate for victims of sexual abuse and sex trafficking. She attended Brigham Young University and has another book set to come out in 2018 called Where There's Hope: Healing, Moving Forward, and Never Giving Up. She was also married in 2012, and recently welcomed her second child.
It's important that Smart's story be told and especially that it be told by her; it seems I Am Elizabeth Smart endeavors to make sure her voice is heard.
Check out Romper's new video series, Romper's Doula Diaries:
Watch full episodes of Romper's Doula Diaries on Facebook Watch.