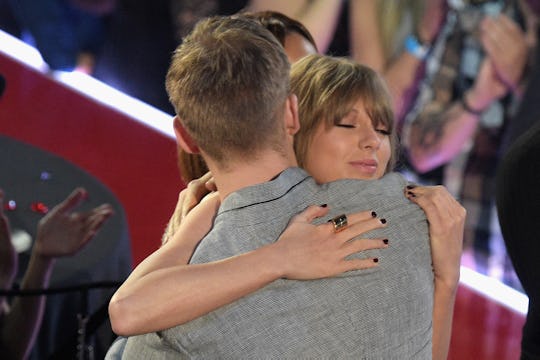 Jason Kempin/Getty Images Entertainment/Getty Images
Fans Think "I Did Something Bad" Is About Calvin Harris, & Here's Why
Taylor Swift may not talk much about her relationships publicly, but her albums reliably spill the dirt on past flings and breakups, leaving everyone to analyze songs like "I Did Something Bad". The latest theory is that the song is about one of her more notable exes. But is "I Did Something Bad" about Calvin Harris? The internet definitely seems to think so.
Fans are speculating that "I Did Something Bad" is Swift's response to Harris' public comments about their breakup. Let's start with a refresher course in their relationship history. After being introduced by Ellie Goulding at the 2015 Brit Awards, Harris seemed like the first Swift boyfriend whose tenure might end with a proposal instead of a breakup song. Instead, just a few months after marking their one-year anniversary with an Instagram photo of a homemade cake, Swift was seen dancing with Tom Hiddleston at the Met Ball, noted People. A Swift and Harris joint breakup tweet soon followed. But while they seemed to be on cordial terms, with the usual "love and respect" remaining, things got ugly in mid-June when paparazzi photos captured Swift and Hiddleston kissing as they walked along the shoreline of her Rhode Island home.
We've heard Harris' side of the story in social media comments he posted in the summer of 2016. Besides accusing Swift of controlling "the media and this situation," Harris claimed to be hurt by the way Swift's "team" and fans portrayed him as the villain. He said he wouldn't allow her to bury him like "Katy etc.," a reference to Swift's alleged feud with Katy Perry as described in Swift's song "Bad Blood." But Swift largely stayed mum, perhaps caught up in her globetrotting summer romance with Hiddleston.
Now the release of Reputation and "I Did Something Bad" gives the public some insight into Swift's side of the story. The song opens with the lyrics "I never trust a narcissist / But they love me / So I play 'em like a violin / And I made it look oh-so-easy." Some fans speculate that the "narcissist" label refers to Harris because he often posts selfies displaying his bare chest. It could also be a reference to Kanye West, who is famously self-involved and another celebrity Swift has publicly feuded with. Whether she's singing about Harris or West in the first verse, Swift clearly positions herself as the one in control, the person with the upper hand in this relationship. Instead of being victimized, she takes advantage by playing her adversaries "like a violin."
In the rest of the first verse Swift brags that "for every lie I tell them / They tell me three." This could be a rebuttal of Harris' claim that she controlled the public narrative of their relationship. "This is how the world works," Swift sings next, sounding wise and jaded, another shift from her earlier persona as a hopeless romantic left heartbroken in the wake of failed relationships. She cements the image of herself as the one with the upper hand by saying "Now all he thinks about is me." This lyric makes sense for both West and Harris, as both seemed to have Swift on their minds (and in their songs) long after the friendship or romance faded.
One of the themes of "I Did Something Bad" is that living well is the best revenge. Swift is defiant and unapologetic throughout the song. "If a man talks sh*t, then I owe him nothing / I don't regret it one bit 'cause he had it coming." There's a clear feminist sensibility in these lyrics, too, as Swift calls out men in particular. West may have taken credit for making Swift famous, but she sees herself as a self-made woman who doesn't owe anyone anything. Later in the song she sings, "I let them think they saved me," again asserting her strength and independence. She may enjoy having a man in her life, but she doesn't need one.
In the chorus of "I Did Something Bad," Swift refuses to feel ashamed for whatever crime she's been accused of. "They say I did something bad / Then why's it feel so good / Most fun I ever had / And I'd do it over and over and over again if I could / It just felt so good, good." If that's a reference to cheating on Harris with Hiddleston, as some fans speculate, or simply moving on so quickly, Swift has no regrets and she's not interested in apologizing.
Reputation presents a woman at the height of her talent and power. Jaded lovers and self-absorbed rappers may try to throw shade on her, but she doesn't pay them any mind. If anything, they owe her thanks for elevating their fame, not the other way around. In "I Did Something Bad," Swift holds her own and doesn't care if she gets portrayed as a witch in the process. "Go ahead and light me up," she sings flippantly. This is a good rallying cry for women everywhere who have been disbelieved, shamed, or otherwise made to feel they did "something bad."
Check out Romper's new video series, Romper's Doula Diaries:
Watch full episodes of Romper's Doula Diaries on Facebook Watch.