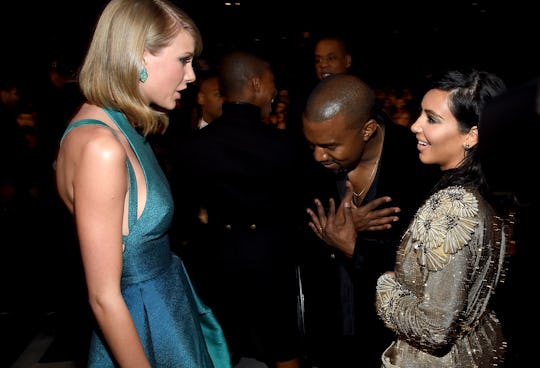 Larry Busacca/Getty Images Entertainment/Getty Images
Taylor Swift's "I Did Something Bad" May Just Be About This Famous Feud
The old Taylor Swift may be dead, as fans learned with the August release of her single "Look What You Made Me Do," but she may have opted to carry her old feuds into her new life. At least, some of the lyrics in her brand-new album, Reputation suggest that this "new Taylor" is still raging over her public dispute with Kanye West and Kim Kardashian. Either that, or she's exploiting it to sell records and to give her darker, more combative music ~*layers*~. In any case, there are plenty of clues that "I Did Something Bad" is totally about Kanye and Kim.
It's not an unfounded suspicion, that's for sure. The "LWYMMD" lyrics "I don't like your little games/ I don't like your tilted stage /The role you made me play: of the fool/ No, I don't like you" could be interpreted as a not-so-subtle allusion to Swift's years-long spat with West, which started when he famously hijacked her speech at the VMAs in 2009. After all, West literally performed on a tilted stage during his Saint Pablo tour last year, as Rolling Stone pointed out.
And then there was that image from the song's music video that shows Swift reclining, corpse-like, in a bathtub resplendent with diamonds. Many interpreted that as a shot at West's wife, Kardashian, whom robbers left tied up in a bathtub in a Paris apartment while they stole millions of dollars of her jewelry last year.
So, it wouldn't be so shocking if "I Did Something Bad" were a not-so-subtle response to her drama with the couple. After all, it was a Kanye West lyric in his 2016 song "Famous" that rekindled their feud and ultimately encompassed Kardashian in the fray as well. Who could forget the saga over the line "I made that bitch famous," which Kanye and Kardashian swear they cleared with her beforehand and Swift maintains she learned about right with the rest of the world?
Whatever the truth, it appears it may be Swift's turn to sound off through her music. According to the Genius lyrics of "I Did Something Bad," the very first line of the song is "I never trust a narcissist." West, who will be the first to tell you that he is "so credible and so influential and so relevant," of course has a reputation for having some narcissistic tendencies himself. Coincidence? You be the judge.
Another glaring could-be nod to the feud with West and Kardashian comes a little later in the song, when Swift spends some time talking about "witch hunts," which, well...
They're burning all the witches, even if you aren't one
They got their pitchforks and proof
Their receipts and reasons
They're burning all the witches, even if you aren't one
It's hard not to see this as a reference to the gigantic brouhaha that erupted when Kardashian released what appeared to be video of West calling Swift and getting her blessing to talk about her in "Famous." In the clips, which Kardashian made public in July 2016, Swift can be heard approving the line "I feel like me and Taylor might still have sex."
Even though there's no evidence that she ever heard, let alone OK'd the "I made that bitch famous" line before the song's release, this caused much of the public to write Swift off as a "snake." That's because she used her Grammy acceptance speech that February to admonish West, though not by name, for trying to take credit for her accomplishments, and, yes, her fame. How could she play the victim, a popular line of thinking went, if she was in on it the whole entire time?
If you're Taylor Swift, you may not at all appreciate the "receipts" from the Kimye Kamp, or the ensuing "pitchforks" coming at you in the form of snake emoji taking over your social media pages. You may even think of the whole situation as somewhat of, well, a witch hunt.
But, alas, Swift hasn't exactly been granting interviews lately, so no one's had the chance to ask her directly about how much influence West has over her new music. Considering how intertwined these two have been in the zeitgeist for the past several years, though, there's every reason to think that the answer is a lot. Or "I Did Something Bad" could just be about one of her exes. That's always a possibility, too. But you be the judge.
Check out Romper's new video series, Romper's Doula Diaries:
Watch full episodes of Romper's Doula Diaries on Facebook Watch.