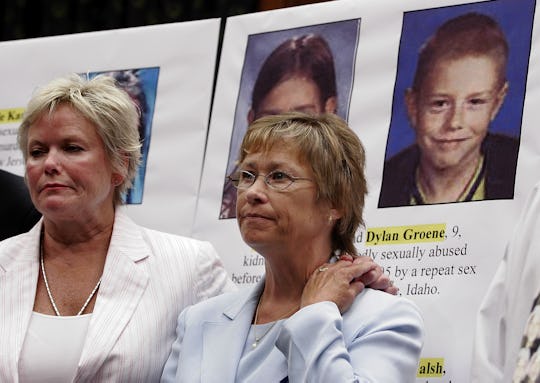 Chip Somodevilla/Getty Images News/Getty Images
Is 'In The Dark' A True Story? The True Crime Podcast Could Be The Next 'Serial'
A true-crime podcast documenting the little known 1996 murder case of Baltimore teenager Hae Min Lee became a surprise cultural phenomenon two years ago. Hosted by This American Life's Sarah Koenig, Serial examined the crime from every possible angle. Fans of the podcast eagerly awaited the next, weekly instalment to be released. Many, including Netflix's Making A Murderer and HBO's The Jinx, have tried to replicate the runaway success of Serial. While both were successful, they weren't quite the same. Podcasts allow the time and space for tragic circumstances to be explored thoughtfully and thoroughly. APM Reports has released a new podcast that could truly be Serial's successor. In The Dark is a true-crime podcast that details the events of 11-year-old Jacob Wetterling's kidnapping and subsequent murder.
According to NBC News, 27 years after being abducted by a masked man in his hometown of St. Joseph, Minnesota, Wetterling's remains were found when 53-year-old Danny Heinrich admitted to abducting, sexually assaulting, and then shooting his captive in 1989. APM Reports teamed up with investigative reporter Madeleine Baran to re-examine what happened the night Wetterling went missing, the search that gained nation attention in the kidnapping's wake, and why it took nearly thirty years to crack the case.
Throughout the eight episode series, listeners will be taken back to the night and aftermath of Jacob's abduction. Although the world already knows how this tragic story ends, there is still much left to be examined. In The Dark isn't your typical whodunnit mystery, but rather a deeply thoughtful exploration of what went wrong the night Wetterling died. Baran asks tough questions throughout the series run, such as what could investigators have done better in those crucial first minutes after the kidnapping?
CBS News noted that Heinreich's disturbing confession revealed that there was only the briefest of windows for police to find and rescue Wetterling. The Minnesota man detailed the night of Wetterling's kidnapping and death as he pleaded guilty to a federal pornography charge in court. Wetterling's parents, Patty and Jerry Wetterling, were present as Heinreich stated he drove the child to a gravel pit near Paynesville, sexually assaulted him, and then shot him in the back of the head.
The first three episodes of In The Dark are available for download on iTunes. The third episode looks at the kidnapping and sexual assault of another young, Minnesota boy named Jared Scheirel, according to MPR News. The outlet noted that 10 months before Wetterling was abducted, Scheirel was walking home alone one night after meeting friends for a chocolate malt. A man pulled up in a car, told Scheirel he had a gun and to get in the car. The man drove away with Scheirel, taking him to a secluded area, and sexually assaulted him. That man was Danny Heinreich.
What happened to Scheirel and Wetterling is devastating. Hopefully In The Dark helps to highlight and fix problems that may prevent this from happening to other children in the future. Minnesota Gov. According to the KARE 11, Mark Dayton directed the Minnesote Department of Transporation to light up The Interstate 35W Bridge for 11 days in memory of Jacob Wetterling. The bridge will be lit in blue to represent child abuse prevention.