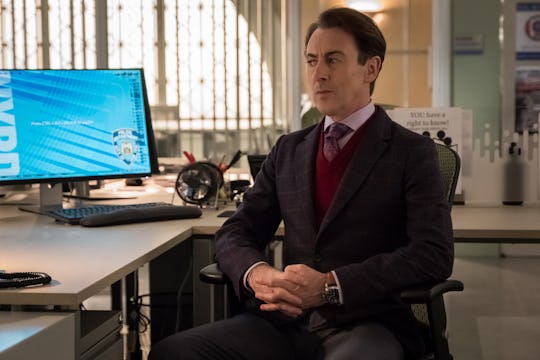 Jeff Neumann/CBS
The New CBS Series 'Instinct' Takes Inspiration From An Interesting Source
If you feel like you've run out of highly engrossing murder shows to watch, never fear. CBS has a new show called Instinct and it stars Alan Cumming to boot, which means you know it's going to be worth a watch. But is Instinct based on a true story? I'm sorry to report that this show is not of the true crime variety (my other favorite genre), but it is based on a novel by one of the most popular thriller writers ever. So it's at least got that going for it.
Instinct is about a former CIA operative, Dr. Dylan Reinhart, played by Cumming, who wrote the definitive book on criminal behavior. This book is even taught in university classes. Now working as a university professor, Dylan is lured back to his old life of solving crime when the NYPD needs his help to stop a serial killer. Detective Lizzie Needham convinces him to help by showing him that the killer is using Dylan's own book as a sort of manual. They are joined by Dylan's old CIA buddy, Julian Cousins as well as Lizzie's boss, Lt. Jasmine Gooden. Though Dylan and Lizzie initially clash, eventually they learn to work well together, and the only person not thrilled with the arrangement is Dylan's husband Andy, who thought that Dylan had put away the cloak and dagger stuff for good.
Though this story is not based on any sort of reality, it is based on the book Murder Games by James Patterson. You'll know Patterson as one of the most prolific and popular thriller novelists alive today. He's like the Danielle Steel of mystery books. You may have even seen his commercials on TV, in which he kind of adorably attempts to sound spooky while advertising the adventures and murders of his famous characters like Alex Cross. The book is no doubt a pulpy story, but Cumming has just the sort of flexible acting talent to elevate any source material.
According to the descriptions of the book, the murderer leaves a very distinctive clue at each crime scene: a playing card. This habit gives him the nickname, "The Dealer," which is splashed across all of the tabloid newspapers. Naturally, New York City is in a panic over the possibility of a serial killer, and these two grizzled veterans have to get together to solve the murder.
The story is hardly unique — there are plenty of shows about a brilliant and misunderstood detective with the uncanny ability to get into the mind of a killer unlike any other. Sherlock, Mindhunter, and The Alienist are a few recent examples that immediately come to mind. But I have to admit I'm excited to see what Cumming brings to the archetype. As one of my favorite actors, it's always exciting to see any project that he's a part of. He has an wonderful way of making goofiness seem sincere and believable in a way that's comedic and yet still sympathetic.
The other actors in the show are not quite as well known. Dylan's partner Lizzie is played by Bojana Novakovic, who from the previews alone already looks like she is a match for Dylan in terms of determination, cleverness, and stubbornness. I have to say I'm looking forward to seeing how these two play off of one another, since it's sure to be a long and probably dangerous journey. My only real question is why hasn't Cumming played a role like this before now?
Check out Romper's new video series, Romper's Doula Diaries:
Watch full episodes of Romper's Doula Diaries on Facebook Watch.