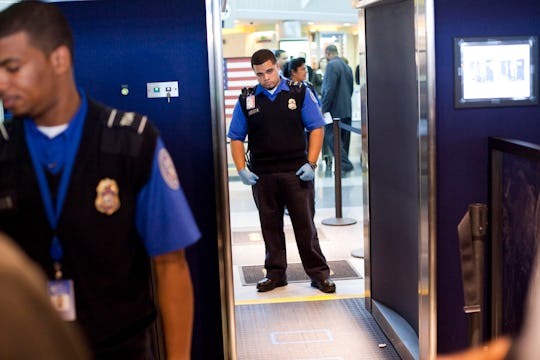 Michael Nagle/Getty Images News/Getty Images
Lawyers Challenge Trump's Travel Ban
On Friday, President Donald Trump signed a controversial executive order on immigration and in a matter of hours it managed to send shockwaves through the nation and across the globe, blocking immigrants and refugees at U.S. entry points as security officials now have a new set of rules to follow. Already at least 27 people have reportedly been detained or sent home from four different American airports, including an Iraqi man who had worked for a decade as an interpreter for the United States Army during the Iraq War and a handful of Syrian refugee families hoping to start new lives in America, according to The New York Times. These new travel restrictions are part of a vetting process to prevent "radical Islamic terrorists" from entering the country, but is it even legal for people to be detained at airports simply because they come from one of the seven Muslim-dominated countries included in the ban?
According to CNN, two Iraqis — who are reportedly connected to the U.S. military and had valid visas to enter the United States — have already filed lawsuits against Trump and the government after being detained at John F. Kennedy International Airport in New York City on Friday.
These men were blocked at the airport because Trump's order now bars Iraqi citizens as well as people from Syria, Yemen, Sudan, Somalia, Iran, and Libya from entering the United States for 90 days. According to ABC News, it also calls for the complete suspension of Syrian refugees for an indefinite period and the United State's entire program for admitting refugees for 120 days until authorities deem that they have been properly vetted
But, the lawyers from the American Civil Liberties Union (ACLU) for the two Iraqi men said that it is illegal to detain people with valid visas and the order "violates their Fifth Amendment procedural and substantive due process rights," according to CNN.
According to the ACLU, one of the detained men, Hameed Khalid Darweesh, was traveling on an Iraqi special Immigrant Visa and had worked for the U.S. government for years and the other, Haider Sameer Abdulkhaleq Alshawi, had been granted a Follow to Join Visa and had planned to join his wife and 7-year-old son in Houston, Texas, who are both lawful permanent residents.
"President Trump's war on equality is already taking a terrible human toll," Omar Jadwat, director of the ACLU's Immigrants' Rights Project said in a statement. "This ban cannot be allowed to continue."
In the wake of Trump's executive order, hundreds of people around the nation began protesting the detention of immigrants and refugees even though they entered the country with valid visas. Iran also responded to the dramatic move and called it "an obvious insult to the Islamic world," according to CNN.
Only time will tell what consequences Trump's travel ban might have on the nation's foreign relations and the future of so many people's lives. But it's already clear that people all over the world are concerned.