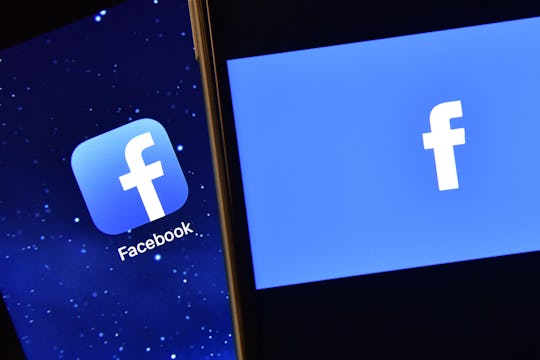 Carl Court/Getty Images News/Getty Images
Is It Legal To Post Photos Of Your Kids On Social Media? One Teen Is Suing Her Parents
Baby pictures used to be confined to family albums tucked neatly and safely away on shelves. But as social media made sharing photos astonishingly easy, childhood snapshots can gain a life online before the subject is even old enough to create a Facebook account. Though plenty of parents love preserving cute snapshots, is it legal to post photos of your kids on social media? One Austrian teen is suing to prove her parents crossed a line by oversharing.
An 18-year-old discovered that her parents posted 500 photos of her as a baby and small child on Facebook, according to USA Today. That meant her parents' 700 friends got to see photos of her in various scenarios throughout her early life, some of which involved nudity. The images went online without the consent of the subject, and Teen Vogue reported that the parents denied their daughter's request to remove childhood photos from social media. The woman opted to take her argument to court, requesting "financial compensation" and removal of the pictures, according to USA Today. The dad claims that if he took a baby photo, he should be able to decide how and where to distribute it, Cosmopolitan reported. The woman is quoted by USA Today arguing that sharing the photos so publicly is a violation of privacy:
They knew no shame and no limit — and didn't care whether it was a picture of me sitting on the toilet or lying naked in my cot — every stage was photographed and then made public.‌ ‌
It may be easy for teens and 20-somethings photographed before the age of oversharing to sympathize with the woman, but it's not clear whether she has a case. Her lawyer is confident that proving a violation of privacy rights could win, Teen Vogue reported. Though there doesn't seem to be precedent for that kind of legal action in Australia, USA Today reported that French parents can actually be sentenced to jail time if their children win a lawsuit against them proving that their privacy was violated.
Kids and teens are often thought to share too much on social media, but their digital savvy may actually prompt them to develop a surprisingly careful approach to curating their online identities. One study conducted by researchers at the University of Washington and the University of Michigan found that kids were three times more likely than parents to want their parents to adopt a set of rules for social media sharing, according to The New York Times. In general, parents weren't nearly as concerned about their own social media use, but they are quick to point out when other moms and dads seem to be taking their sharing too far. A 2014 study conducted by C.S. Mott Children's Hospital discovered that 74 percent of parents on social media could identify at least one other parent who overshared about their kids, MarketWatch reported; that included uploading content deemed embarrassing, inappropriate, or dangerously specific to a kid's location.
When parents post pictures of their kids online, they probably don't need to fear legal action; there appear to be no definitive laws governing most family photos posted online, though there are obvious exceptions for images that could be considered pornographic or abusive. But even as the law catches up to technological innovation, the conversation regarding what's appropriate to post is important. One United States study determined that 63 percent of moms are on Facebook, with 97 percent having posted at least one picture of their kids, according to The Guardian.
Digital albums offer a simple way to share family photos with distant relatives or swap snapshots with other preschool moms, but there are a few guidelines to keep in mind. Parents should avoid posting images of kids that include any nudity, POPSUGAR noted. It's also a good idea to refrain from sharing any pictures that feature identifying information, including full names, schools, and home addresses. And though birthday party and first-day-of-school albums can be fun to share, don't upload photos of other people's kids without their explicit permission and the tightest possible privacy settings.
In general, it may also be a good idea to ask kids before posting a photo. As the University of Washington and University of Michigan study found, 18 percent of 10- to 17-year-olds surveyed want their parents to ask for permission to distribute a family snapshot, according to The Wall Street Journal. And if kids rescind their permission later, it may be smart to just honor their wishes and delete the photos in question (even if they did earn a record-breaking number of likes).
The digital landscape makes a family photo faux pas distressingly easy. But by collaborating with kids and following practical guidance, parents can balance preserving personal history with respecting children's privacy.