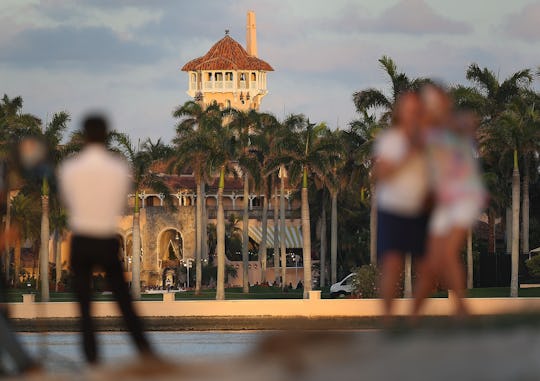 Joe Raedle/Getty Images News/Getty Images
Was Trump's Mar-A-Lago Security Briefing Safe?
President Donald Trump's Palm Beach club, Mar-a-Lago, just became a lot more controversial. While dining there over the weekend while entertaining Japan's Prime Minister, Trump apparently conducted some very formal business on the club's terrace — in full view of non-government, regular-folk club members, one of whom even posted about it on Facebook. Is it safe for Trump to hold security meetings in the open? Probably not, but he did it anyway, and he'll probably do it again. Romper reached out to the White House for comment regarding the situation, but didn't hear back.
Trump has been trying to establish his exclusive club as a legitimate off-season alternative to the White House, which is problematic for several reasons — not least of all because of the conflicts of interest involved. As was evidenced by what happened on Saturday night, however, the even bigger threat may be that, of all Mar-a-Lago's amenities, a presidential-level of security isn't among them.
Over the weekend, Trump was entertaining Japanese Prime Minister Shinzo Abe at the Florida club. They dined on the terrace — amongst the clubs many guests — and even crashed a wedding. Mar-a-Lago is a pretty exclusive club, but only in the sense that private membership, or renting it for events, can be pricey. But if someone can pay, access to Mar-a-Lago — and Trump when he's there himself — is easy to come by.
This was exemplified during Trump's open-air dinner with the prime minister when they were made aware of a breaking event: North Korea had just launched a ballistic missile as part of a larger scheme of missile tests — which is in direct violation of the United Nations resolutions prohibiting nuclear weapons development.
This information was relayed to both the president and the prime minister as they were eating dinner. Since Mar-a-Lago is a public place, the other guests who were eating dinner just tables away were privy to the commotion that occurred in response to the news. One club member, a man named Richard DeAgazio, gave a play-by-play of what was happening on the terrace on Facebook — proving that not only had high-level foreign intelligence been delivered to the president's table along with the crudités, but that club-goers had unprecedented access to what happened next.
They were even able to snap pictures that appeared to show Trump reviewing documents — that were probably classified — with the prime minister over their meal before finally leaving the table and going off somewhere more private.
Having any kind of discussion about foreign intelligence — especially something that could directly threaten national security (not to mention start a nuclear war) — is risky. The irony here is that Trump's presidential campaign he (and the media) continuously lambasted Hillary Clinton for using a private email server.
Before he departed for Mar-a-Lago, Trump had been caught in another security snafu when Senator Martin Heinrich noticed in a photo of Trump in the Oval Office that he had apparently left a key in a locked carrier containing highly classified intelligence documents. He said it was akin to "leaving your house keys in your front door while you're having a party in your backyard," according to The Washington Post.
Security experts and Twitter pundits alike have been quick to point out that, given the unsecured nature of a locale like Mar-a-Lago — which employs staff and entertains guests who aren't vetted for security's sake as they would be, say, if they were visiting the Oval Office — any dealings Trump undertakes during his time spent there could be made vulnerable. Whether it's because someone overhears the information and repeats it (on the internet, nonetheless) or because Mar-a-Lago's lack of security makes it easier for foreign operatives to infiltrate, it's not unreasonable to be concerned that the president is discussing matters of national security in a fairly public place.
While there are no reports that classified information from either event has been deemed compromised, it doesn't seem like the kind of thing you want to test your luck with. The ultimate responsibility of the president is to protect the American people, and it seems reasonable to question how well a person can do that if they're getting interrupted by waitstaff bringing out the next course.