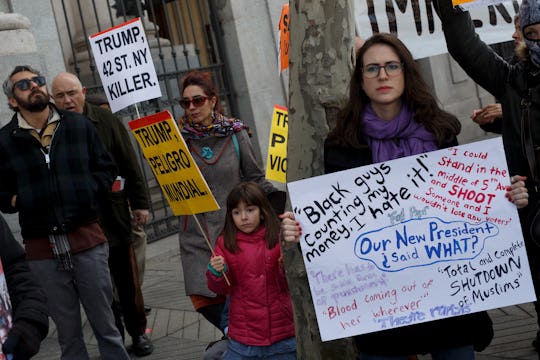 Pablo Blazquez Dominguez/Getty Images News/Getty Images
Here's How Safe The 2018 Women's March Is For Kids
One day after the inauguration of the nation's 45th President, America took to the streets of Washington as a rallying cry towards women's equality, health, and human rights. The event spurred peaceful, politically-charged marches across the country, with an estimated 5 million strong in attendance. Now, on the one-year anniversary on the horizon, the movement is poised for transition. The next phase on the agenda, Power to the Polls, kicks off Saturday, January 21st, 2018 in select cities. So, is it safe to bring your kid to the 2018 Women's March? The answer is yes, as long as you come prepared.
Last year's Women's March attracted over 500,000 protesters in Washington, D.C, alone, but was hailed as an incredibly peaceful event. Still, making sure the event is safe for all requires a little extra planning. With a year of President Donald Trump's often unpredictable presidency in the books, the free press, women's autonomy, immigration, and healthcare (among other important issues) have been under constant attack. In an email to supporters, as told by The Detroit Free Press, Power to the Polls was designed to "mass mobilize," targeting key swing states. The goal, they hope, is to leverage mid-term elections by replacing conservative seats with more progressive candidates. According to the Women's March mission statement, the goal for the event is to "harness the political power of diverse women and their communities to create transformative social change," adding their principles are "grounded in the nonviolent ideology of the Civil Rights movement."
The foundational principles of what the Women's March stands for, as stated on their website, is ending violence and protecting reproductive rights, LGBTQIA rights, worker's rights, civil rights, disability rights, immigrant rights, and environmental justice. In other words, the march is a prime opportunity to show your children how to participate in civil, safe protest; a chance to show your children how to stand up for what they believe in. But, according to NPR, there have been multiple accounts of peaceful protests gone wrong over the last year, so you can never assume complete safety.
The march is undeniably inclusive, but because it's not directly aimed at children, CNN advises having a plan. Before you think about taking the whole family, first learn the rules and points of interest, such as the location, things you can bring, safest routes to get from Point A to B, and the general guidelines. Then, and only then, is it time to get into specifics. San Fransisco Chronicle laid out a go-to consideration guide for parents talking children to last year's march. Among the things to remember are to dress comfortably, bring kid-friendly snacks, have a bathroom plan, and be flexible if your kids aren't able to get through as much of the event as you'd hoped. The same should apply for this year.
Last year's march offered a reunification tent in case of separation with organizers in bright yellow vests, so it's worth looking into whether or not your city of interest will offer the same. Regardless, even the most organized events can be unpredictable, so designate a meet-up point and instructions on what to do if, for whatever reason, you become separated. Also, stay with the crowd. There's safety in numbers, but stay alert reminding yourself of the adage "if you see something, say something." With the addition of the #MeToo movement lending its cause to the anniversary weekend — complete with a panel on women's rights — it's difficult to estimate the size and atmosphere of the crowd. In other words, be prepared for anything.
If you're still conflicted on whether or not to take your kids to the march, the Women's March Youth Initiative has a youth ambassador program and parent Facebook group support page. Ages of the 28 kids range from 11-18 and they play a pivotal role to "provide a platform of civic engagement." Seeing kids motivated to create change may inspire your children to use their voices for good, too. Check PowerToThePolls.com to find an event in your area.
Check out Romper's new video series, Romper's Doula Diaries:
Watch full episodes of Romper's Doula Diaries on Facebook Watch.