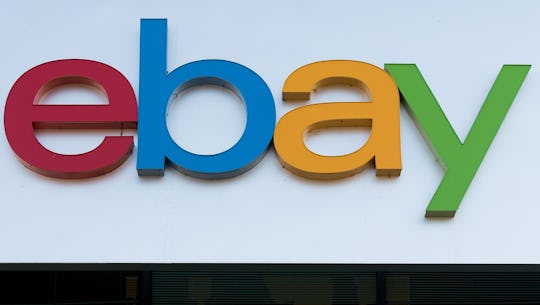 JOSH EDELSON/AFP/Getty Images
Is It Safe To Buy Hatchimals On eBay? It's Expensive, But You Probably Won't Get Scammed
If you have little children, odds are that they're clamoring for a Hatchimal this holiday season. The battery-powered animal toys that "hatch" out of eggs have been flying off the shelves, and now, many desperate parents are turning to third-party sellers in the hopes of avoiding a Christmas morning meltdown. But is it safe to buy Hatchimals on eBay? Well, you probably won't get scammed as long as you're careful, but the eBay route isn't great for your wallet.
The toys, which are reminiscent of those oh so annoying yet oh so in demand Furbies of days past, retail for between $50 and $70 at chains like Target, Toys R Us, and Walmart. But those crafty eBay sellers, many of whom picked up a whole bunch of the little animals before they became impossible to find, have jacked up the prices. And now, Hatchimals on eBay are generally going for between $150 and $250, a steep price for a toy that, according to some Hatchimals customer reviews, doesn't provide much interest once it actually pops out of its egg.
And some sellers are taking it even further. Hatchimals have been listed for multiple thousands of dollars on the site. A $100,000 listing claims that its proceeds will be donated to charity, although a Draggle purple egg Hatchimal listing for $55,000 makes no such lofty promises.
Still, if you decide you'd like to make the investment, you'll probably be safe from scams. eBay has a money back guarantee policy, so in case someone promises you a new Hatchimal and then tries to send you some ratty old teddy bear, you can complain to the site, and you'll either get your promised merchandise or your money back. Just make sure to do it within the policy's time limit!
And watch out when buying Hatchimals from other websites that don't necessarily have consumer protections in place. A woman in the UK got scammed when she tried to buy a Hatchimal through Facebook, and she's not the only one to have been taken advantage of while trying to do something nice for her kids.
If all this backdoor Hatchimals buying isn't for you, you could always try calling around to your local stores, or trying to get yourself put on a waitlist, a possibility at some Barnes & Noble locations.
Alternatively, you can just tell your children that they'll have to wait until the new year. According to a statement on the Hatchimals website, the company is increasing production, meaning it'll be a whole lot easier to find these toys in 2017. Yet another reason 2016 can't end quickly enough!