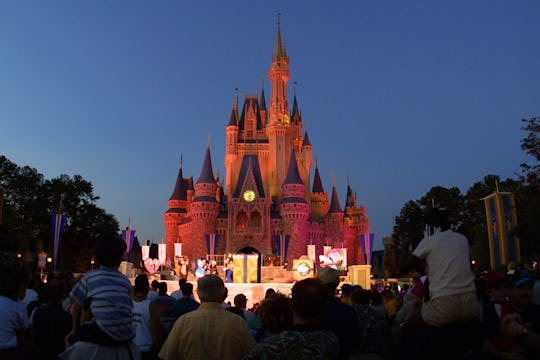 Joe Raedle/Getty Images News/Getty Images
Disney World Will Close For The 5th Time In Its History For Hurricane Irma
If you're one of the unlucky thousands who planned a Florida vacation this weekend, you might be wondering, is it safe to stay at Disney World during Hurricane Irma? The short answer is probably, yes. But just because you can doesn't mean that you should. Disney held out until the last possible moment, but late Thursday afternoon, the park finally bowed to Irma just a bit by closing its campground, Treehouse Villas, and one of its water parks, according to the Orlando Sentinel. But by Friday, it became clear that nobody's going to be riding any teacups this weekend.
According to the latest update on the park's dedicated Irma information page, Walt Disney World Resort will be closed Sunday, Sept. 10 and Monday, Sept. 11, except for the hotels. Some areas are already closed as of Friday, and the rest will close early on Saturday evening. The hurricane is expected to be over Orlando Sunday night into Monday morning, according to AccuWeather, but thunderstorms are in the forecast for Friday and Saturday, as well. This is only the fifth time in more than 40 years that Disney World has closed due to a hurricane, according to ClickOrlando. The previous closures occurred in 1999, twice in 2004, and again last year. But sure, keep denying climate change, Mr. President.
If you happen to be at a Disney World Resort hotel already, you'll see that the staff has everything under control; Disney World was the first amusement park to be recognized by the National Weather Service as a "StormReady community" for its hurricane protocol, and since they just dealt with this less than a year ago, they're certainly not out of practice. Based on anecdotes from last year's guests, you can expect flashlights, box lunches, and maybe even a princess or two if the storm isn't too bad.
That being said, if you're not already at the hotel, or if you are, but you have the means to leave, it might be a good idea. After all, the best place to be during a hurricane isn't a well-prepared resort, it's anywhere the hurricane isn't. Furthermore, Florida residents from less safe areas need somewhere to go, and hotels are booking up fast, according to Florida Today. Disney offers discount room rates to locals, and you can cancel or reschedule your stay without a fee, so why not give up that room for someone who really needs it? To be honest, your vacation is already ruined. Sorry, folks. Next time, maybe book a stay during the spring.