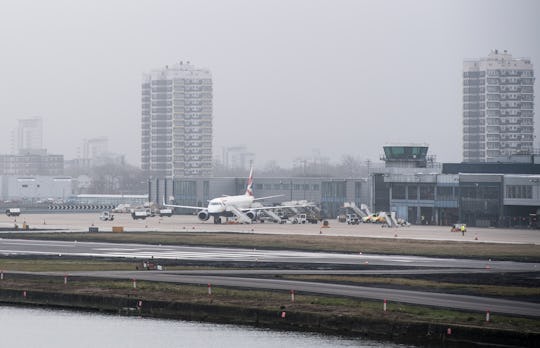 Chris J Ratcliffe/Getty Images News/Getty Images
Is It Safe To Travel During Snowy Conditions? Scary Incident Has People Worried
The holiday season is one of the busiest times of the year for airports across the country. Crowded airports are stressful enough on their own, but there is always the chance that Mother Nature will make traveling during the holidays even more taxing. Airlines do their best to determine whether or not planes should take off during less than ideal weather conditions, and travelers are usually pretty happy when their flights take off on schedule despite fog, rain, or snow. A scary incident at O'Hara airport on Sunday morning, though, has many wondering now if it's safe to travel during snowy conditions.
According to ABC 7 Chicago, a United Airlines flight slid off the runway early Sunday at Chicago O'Hare International Airport. Flight No. 441 from Orlando International Airport landed in Chicago, which had received 1.7 inches of snow by midnight. As the plane turned to taxi on the runway, one of the tires slid off the pavement. ABC 7 Chicago reports that by 3:42 a.m. on Sunday, 145 flights had been cancelled at O'Hare. While no injuries were reported as a result of the incident in Chicago, it still has many wondering if planes should be flying at all in snowy conditions.
According to National Geographic, flights aren't cancelled during inclement weather because the planes can't handle wind, snow, or rain in flight. John Dern, a spokesman for Boeing informed National Geographic that planes are "certified to fly in extreme conditions." Dern also revealed that The Federal Aviation Administration (FAA) has a detailed list of requirements that commercial aircrafts must achieve before being sanctioned for flight. This list is "designed to ensure that your plane can operate in wind and snow." So when flights get cancelled during snowy conditions, it's not because the airplane can't handle the weather. It's actually because the airport itself shuts down or the airline "decided to ground a large number of flights for operational reasons."
Like the plane that slipped off the runway at O'Hare, the biggest challenge for airplanes during snowy conditions is the runway. The plane can withstand weather related challenges while it's in flight. But even light snowfall most likely will not stop a plane from taking off or causing it to slide off the runway. Runways and taxiways need to be thoroughly plowed and completely cleared of ice and snow before a plane can successfully take off. Heavy snow can pose a huge challenge to pilots attempting to generate flying speed, which can prevent the plane from actually taking off before the runway ends.
The incident on Sunday at O'Hare International Airport was certainly scary, especially for those on board the plane, but it's comforting to know that it's a rare occurrence. It's inconvenient to have to your flight cancelled during the busy holiday season, however, the airlines know which conditions their planes can withstand.
Your best bet this holiday season? Listen to the experts.