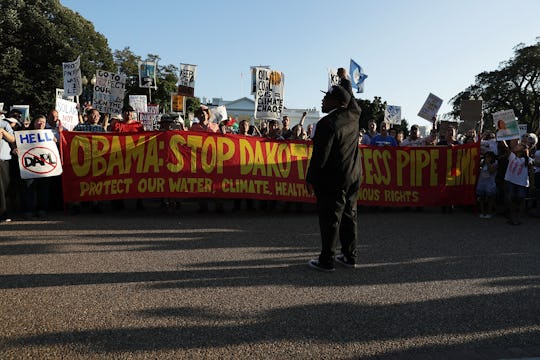 Alex Wong/Getty Images News/Getty Images
Is It Safe To Visit Standing Rock? Things Have Been Intensifying
It's a location you're probably familiar with by now, and you may have even virtually checked in there on Facebook: Standing Rock, North Dakota. It's ground zero in the fight between protestors and those behind the Dakota Access Pipeline, which would transport 470,000 barrels of crude oil underneath the Missouri River on a daily basis. The Standing Rock Sioux tribe has been protesting the pipeline for over a year now, unwilling to risk a leak into its main water source — and thousands of people have been joining their fight in recent months. But is it safe to visit Standing Rock and join the protest in person?
That depends on how you define "safe." Nobody has died during Standing Rock protests so far, but things have certainly gotten violent, with both protestors and police officers complaining of the other side's non-peaceful tactics. Protestors have reportedly set fire to wooden boards, tires, cars, and Dakota Access Pipeline equipment. According to The New York Times, officers have also accused protestors of attacking them with logs, feces, and firebombs.
Officers, on their end, have used pepper spray, beanbag rounds, and high-pitched noises to remove crowds from the area. In one confrontation, officers reportedly used a Taser against a protestor when the individual threw pepper at officers' faces. Police officers' response to the protest has reportedly included army tanks and riot gear. On a single Saturday, 127 protestors were arrested. (Over 400 arrests have been made in total, according to The Washington Times.)
A United Nations indigenous issues group has also been called on to look into possible human rights abuses by North Dakota's law enforcement, according to The Guardian. Several arrested protestors told the media that law enforcement facilities to hold those arrested clearly weren't sufficient — many reportedly had numbers written on their arms, body searches were allegedly conducted, and several women were kept in a fenced area temporarily. Police have also used rubber bullets and tear gas against protestors, according to NBC.
So while the protests at Standing Rock are meant to be peaceful and no one has been killed, they likely aren't the layman's idea of "safe," either. If visitors to Standing Rock are willing to risk pepper spray, tear gas, rubber or beanbag bullets, arrest, uncontrolled fires, and firebombs, then joining the protest is not a bad idea. But make sure to protest peacefully and remain an ally above all — since once you pack up and leave Standing Rock, those who remain will have to live with any consequences to visitors' actions.