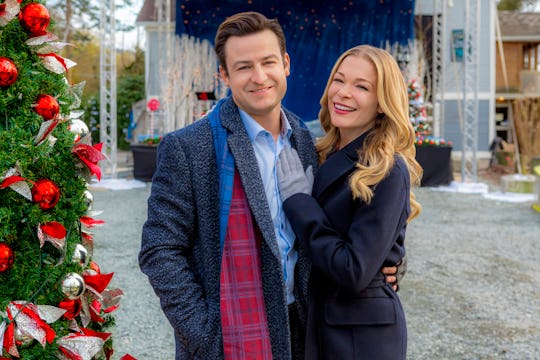 Ryan Plummer/Crown Media
Hallmark Movie 'It's Christmas, Eve' Was Inspired By A Surprising Source
It's time to get into the holiday spirit with Hallmark's "Countdown to Christmas' movie lineup. One of the most anticipated films on the network's schedule is It's Christmas, Eve starring country music star LeAnn Rimes. It tells a sweet story of love, family, and the importance of music, but fans are curious about its origin. So, is It's Christmas, Eve based on a book, or was it written specifically for TV?
According to Hallmark, It's Christmas, Eve was written as a teleplay by Tracy Andreen, who based it off of a story written by Mark Amato. His IMDB page lists Amato as a TV writer with plenty of Hallmark holiday movie credits to his name, including Christmas Encore, A Royal Winter, and Looks Like Christmas. As a screenwriter, Andreen has a number of Hallmark movies under her belt, including Christmas Joy, Christmas Getaway, and Switched for Christmas.
In an interview with My Devotional Thoughts, Andreen revealed that the film's producers presented her with Amato's story and asked her to write the screenplay due to her familiarity with Hallmark's tone, style, and production pace. "They know that I know the parameters and the paradigm for a Hallmark movie —as a writer for the network, it's knowing what they want and how to make something family-friendly, positive, with a strong female lead," she said. "I understand how the network wants the story to be written and come across."
Andreen also told the outlet that while Amato wrote the story, Rimes was responsible for some of the story's direction. "Yes, Mark Amato came up with the story, she said. "But I know that LeAnn was very involved in the crafting of the story and she was really happy with it."
Rimes helped write the story of It's Christmas, Eve, because along with playing the lead role, she is also serving as the film's executive producer. In an interview with Taste of Country, Rimes said that she incorporated issues near to her heart into the movie, including the positive portrayal of blended families and the importance of keeping music and arts in schools.
"It's definitely the most I've been involved in an acting role, and coming in as an executive producer is something I really enjoyed," said Rimes. "Hallmark was super open to what I wanted to talk about and what was important to me to include in the film." The movie will also feature three original holiday songs — co-written and performed by Rimes — including "The Gift of Your Love," "It's Christmas Eve," and "You and Me and Christmas."
According to Hallmark's synopsis of the movie, It's Christmas, Eve is about Eve Morgan (LeAnn Rimes), an interim school superintendent who left her hometown after her father (a jazz musician) passed away 16 years ago. Eve has a hard time settling down, so she travels around the country to assess school budgets. When she is tasked with streamlining her hometown's education budget, she decides that its music and arts program needs to be cut. But coming back to her music-filled home with mom Nella (Gwnyth Walsh) and stepfather John (Laurie Murdoch) rekindles Eve's love of the arts and puts her in the holiday spirit. She also unknowingly falls for the schools music teacher, Liam (Tyler Hynes) and forms a bond with his daughter, Abby (Eden Summer Gilmore), which makes her decision to cut the arts program harder than she expected.
While it could certainly be pulled straight out of a book, the story of It's Christmas, Eve was created for TV. With Rime's on-screen role, her influence on the story, and her musical signature sprinkled throughout, the movie will be the perfect holiday gift for her fans.
It's Christmas, Eve premieres on Saturday, Nov. 10 at 8 p.m. ET on the Hallmark Channel.