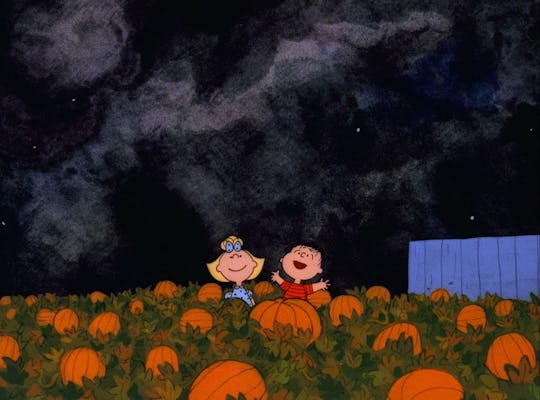 ABC
Watching 'It's The Great Pumpkin, Charlie Brown' Isn't As Easy As You'd Think
It's that time of year and families everywhere are gearing up for Halloween by watching festive flicks and holiday classics, like It's the Great Pumpkin, Charlie Brown. This year, however, you may have to get a little creative because you won't be able to find It's the Great Pumpkin, Charlie Brown on Netflix. Good grief, indeed.
While you can't find it on Netflix, Amazon Prime, or Hulu, you can stream the Peanuts specials on Apple TV+ right now. You can watch It's the Great Pumpkin, Charlie Brown on Apple TV+ with a subscription that costs $4.99 a month after a free seven day trial. It will also be available to stream for free on the Apple TV app from Oct. 30 to Nov. 1
If you're not a fan of streaming, then you can buy a physical copy of It's the Great Pumpkin, Charlie Brown on DVD or Blu-ray. Retailers like Target and Best Buy are selling the Peanuts special for $9.99, which you can have delivered directly to your door. Of course, this option will require you to have access to a DVD or Blu-ray player to watch it. In the past, people could pay to stream it on YouTube, Amazon, and iTunes — but now you can permanently find it on Apple TV+ along with other Peanuts content.
It's the Great Pumpkin, Charlie Brown premiered back in 1966 and since then, the TV special been a staple for many families and a solid tradition to bring in the beginning of the holiday seasons. While Halloween isn't exactly a family holiday for some, it's still a fun day to come together and play pretend and watching It's the Great Pumpkin, Charlie Brown can be a part of that holiday fun.
As the third Peanuts holiday TV special, the movie follows the entire Peanuts gang as they celebrate Halloween and wait with Linus for the Great Pumpkin's arrival, which he believes to be imminent but never happens. Meanwhile, Charlie Brown and most of the others enjoy trick-or-treating, where Charlie gets mostly rocks instead of candy, and then they all attend a Halloween party together — except for Linus, who wants to find the mythical Great Pumpkin, and Sally, who loves him enough to give up the Halloween festivities to join him.
It's pretty much as complicated as it can be in the span of 25 minutes, but it's still a fun watch, especially if it's something you've seen every year since you were a kid.
The Charlie Brown franchise may be considered "old" by the youth of today, but it still manages to pull off impressive ratings each year. In 2016, Variety reported that an airing of It's the Great Pumpkin, Charlie Brown brought in an average of 7.66 million viewers. To put that into perspective, the same night, CBS' Survivor averaged 8.63 million viewers and that's a popular weekly show that's been on for years. Clearly, the love for It's the Great Pumpkin, Charlie Brown isn't going anywhere anytime soon.
This article was originally published on