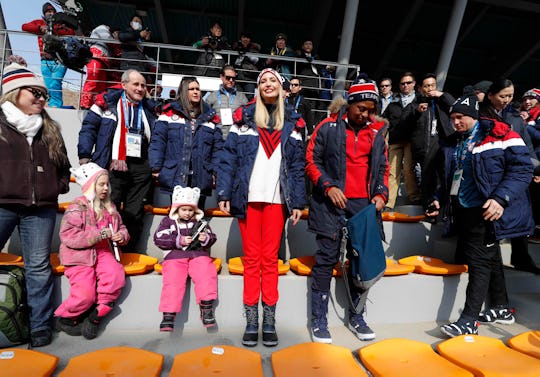 Pool/Getty Images News/Getty Images
Is Ivanka Trump At The Closing Ceremony? She's Representing The United States
In the days leading up to the 2018 PyeongChang Winter Olympics, many people wondered if President Donald Trump would be making an appearance in South Korea for the opening ceremony. He didn't — Vice President Mike Pence went instead, much to the chagrin of some of the Team USA athletes — but now that the closing ceremony has arrived, there is at least one member of the Trump family in attendance. Is Ivanka Trump at the closing ceremony? On Thursday, the White House confirmed that Ivanka Trump, a senior adviser to the president, would be leading the delegation on Sunday, two days after a scheduled visit to Seoul, where she had dinner with South Korean President Moon Jae-in, according to USA Today.
Following the visit, Ivanka traveled to PyeongChang, where she was spotted watching the four-man bobsled competition alongside American women's bobsledder Lauren Gibbs, according to The Associated Press. And it sounds like she was pretty psyched to be there; in a statement ahead of her arrival, Ivanka said she was "honored to lead the U.S. delegation to the closing ceremonies of the Pyeongchang 2018 Winter Olympics," according to USA Today, and that she was "[looking] forward to congratulating Team USA and celebrating all that our athletes have achieved."
Though the decision to send his daughter to PyeongChang may have been a straightforward one for the president — according to CNN, Ivanka is said to be "a winter sports enthusiast," and she "eagerly accepted the opportunity," to head to PyeongChang when asked — it also seems like a fairly calculated move politically, too. Ivanka, after all, is fairly well-liked, and is a much less controversial figure than the president himself, or some of the other members of his administration. And given that Pence's appearance at the opening ceremony definitely rubbed some people the wrong way, it's not surprising that Trump chose to send Ivanka to smooth things over.
For one, Ivanka's presence seems to be less politically-charged than Pence's: according to The New York Times, the purpose of her visit is solely to "[reaffirm] the bonds between the United States and South Korea and cheering on American athletes." And unlike the vice president, who was originally supposed to have a scheduled meeting with North Korean officials, Ivanka has no plans to meet with anyone from North Korea during her visit.
What's not as clear though is how Ivanka is being received by the athletes themselves. Ahead of the opening ceremony, a number of Team USA athletes expressed their frustration over Pence's planned appearance at the games, including figure skater Adam Rippon, who spoke out against the vice president's position on LGBTQ rights — specifically the fact that, during his 2000 Senate campaign, he supported funding "institutions which provide assistance to those seeking to change their sexual behavior," according to The Washington Post.
In a January interview with USA Today, Rippon said, "I don't think [Pence] has a real concept of reality," before adding, "To stand by some of the things that Trump has said and for Mike Pence to say he's a devout Christian man is completely contradictory." And when asked if he intended to meet with Pence ahead of the Olympics, according to TIME? Rippon's response was pretty clear:
I personally have nothing to say to Mike Pence. Given the chance to talk after the Olympics, I would want to bring with me people whose lives have been hurt by legislation he has championed.
Rippon hasn't yet commented on Ivanka's Olympic presence, although, according to USA Today, Team USA snowboarder Red Gerard seemed totally down with having Ivanka lead the delegation. He said,
I'm pretty psyched that she came out and got to see what we can do. It's a pretty fun sport to watch, and it's definitely cool that she came out to support it.
Either way though, on the final day of the 2018 PyeongChang Olympics, the athletes likely had plenty of more important things to focus on than politics. After all, even if they don't agree with the Trump administration, the closing ceremony is a once-in-a-lifetime opportunity to celebrate what has been years of hard work and dedication to their sport. And they deserve to enjoy every minute of it.
Check out Romper's new video series, Romper's Doula Diaries:
Watch full episodes of Romper's Doula Diaries on Facebook Watch.