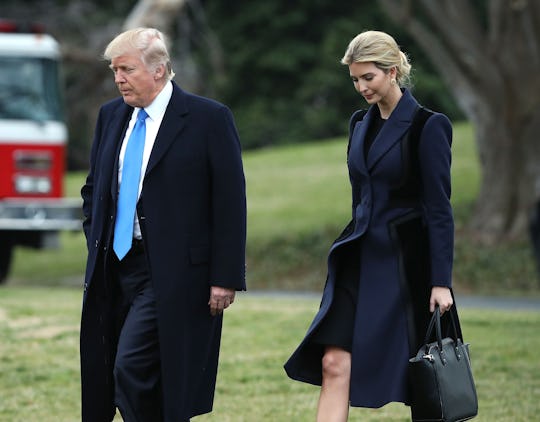 Mark Wilson/Getty Images News/Getty Images
These Stores Still Carry Ivanka Trump's Clothing
Ever since she first got involved with her father's political campaign, Ivanka Trump has been feeling the heat business-wise. With plenty of Americans disenchanted by President Trump's policies and others worried about the political family's far-reaching business ties, campaigns boycotting Trump products have taken off in the United States. Recently, Nordstrom joined at least six other retailers who stopped carrying the Trump brand, and Ivanka Trump's products are slowly disappearing from retailers' shelves. But the quick dump of Trump products begs the question: Is Ivanka Trump's clothing line still available to buy at all, or is her fashion line set to topple?
Many of the big-name retailers and shops that carry the Ivanka Trump line have apparently begun to distance themselves from it. According to Business Insider, Nordstrom claimed that they would no longer be carrying Ivanka's line due to the clothing line's poor performance recently. Neiman Marcus and Shoes.com have also stopped carrying her brand, and Ivanka Trump products have silently disappeared from the websites of Belk, Jet, ShopStyle, and Gilt as well. According to CNN, employees at TJ Maxx and Marshalls were told to mix Trump products in with other brands in-store to keep from highlighting the brand.
Most companies have blamed declining sales for the severing of their business relationship or have stayed mum on the brand's disappearance from their stores. When Shoes.com removed Ivanka Trump products from its website, however, the company made it clear it was responding to customer demands. "We understand and your voices have been heard," the brand wrote in a later-deleted tweet. "We have removed the products from our website."
Not everyone has dumped Ivanka Trump's line, however. The brand is still carried by large department stores like Macy's, Bloomingdale's, Dillard's, Zappos, Amazon, and Lord & Taylor, according to the Trump brand boycotting campaign #GrabYourWallet. Other stores include Saks Off Fifth, Sears, Hudson Bay, and Burlington Coat Factory, among others. A full list of stores that still carry Ivanka Trump products is available on #GrabYourWallet's website, and a spokesperson for the Ivanka Trump brand told CNN that over 800 retailers continue to carry her products.
So yes, Ivanka Trump's clothing line is still alive and kicking — but, just like other Trump brands, it seems to be facing a rather sudden decline in popularity. According to Reputation Management Consultants' marketing expert Eric Schiffer, the negative attention could affect the Ivanka Trump brand in the United States. "It would be near impossible to nuke Ivanka's brand given the proximity she has to the White House and the glamor that heats up to any brand tied to it," he told CNN, continuing:
Ivanka's brand should continue to do well overseas where fewer details filter through about Trump... But Ivanka absolutely won't be boosting her brand in the U.S., and it will continue to get bashed in the teeth with far lower sales from women disgusted at Trump and his positions.
For now, those who want to find Ivanka Trump's products should still be able to do so relatively easily. Those who want to boycott Trump products can find the full list of corporations associated with the family on #GrabYourWallet's website.