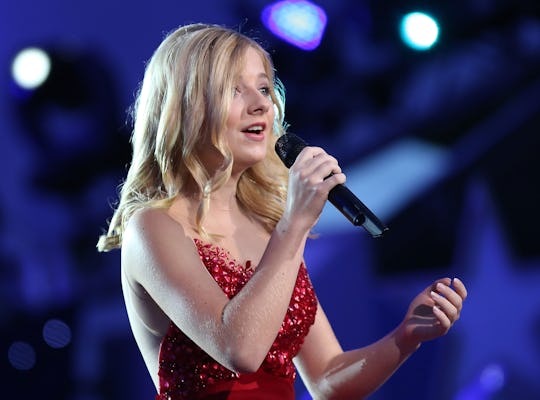 Paul Morigi/Getty Images Entertainment/Getty Images
Jackie Evancho's Inauguration Gig Isn't Political
While many are preparing to make the trip to Washington, D.C this coming weekend, whether for the inauguration, or for the Women's March on Washington, so are celebrities, for both events. And while the performances slated for Trump's inauguration have been a bit of a hot topic recently, with members of the Rockettes speaking out against the organizations participation, Mr. Trump does still have several performers prepared to take the stage. From Third Eye Blind to Toby Keith, most performers are fairly well-known, and for the most part, have been vocal in their support for our president-elect. And then, there's Jackie Evancho. The 16-year old America's Got Talent contestant, and opera singer extraordinaire, was too young to vote in the election, true, but her participation in the festivities warrants the question, is Jackie Evancho a Trump supporter? It's a little unclear, actually.
Evancho, who took second place in the 2010 season of America's Got Talent, has never been extremely political, seeing as how she's only a high school junior, but now, with her decision to accept Trump's offer to perform, she's being forced to answer some tough questions.
And while there are many variables, the fact remains that this was Evancho's decision, and, as she said in an interview with The New York Times, "I just kind of thought that this is for my country. So if people are going to hate on me it's for the wrong reason."
However, Evancho has been the target for many online bullies and commentators, all hell-bent on reminding her that she's betraying her own sister, Juliet, who came out as trans in 2015.
According to the New York Times article, Jackie made the decision to perform at the inauguration on her own, and no matter how you feel about the future president, attacking a teenager isn't the way win over hearts or minds. While the Evanchos are actually currently in the midst of a lawsuit against Juliet and Jackie's high school for not allowing Juliet to use the girls bathroom, Jackie maintains her apolitical status. In fact, Jackie performed at the 2010 National Christmas Tree Lighting for President Obama, which begets the question, is it too much to ask for a 16-year old girl's choice to be left out of political discussions, or have we passed that point?
I know when I was 16, I definitely wouldn't have been prepared to make the kind of decisions Evancho is expected to make, especially with so many attacking me online, no matter what I decided. Perhaps when she sings the National Anthem this Friday, we'll all be reminded that, although our differences are vast, we all share at least one thing in common: We're American. And, for Evancho, that's all that matters.