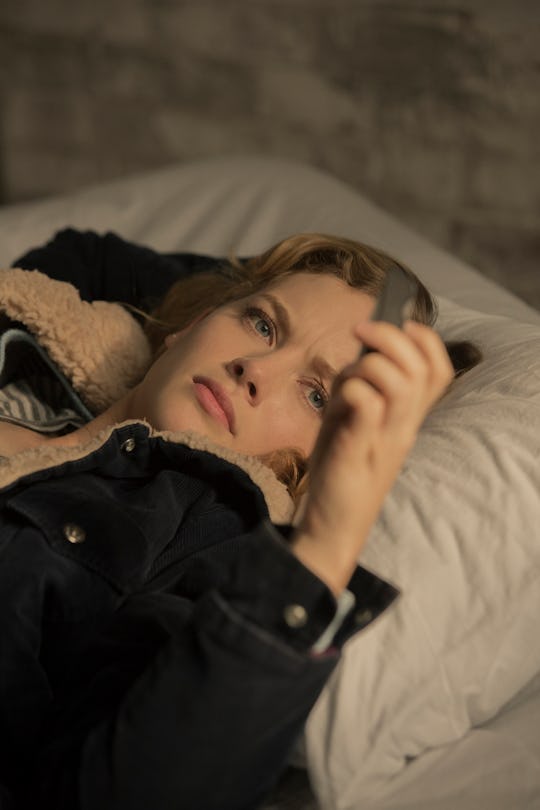 Claire Folger/Hulu
Here's How Jackie On 'Castle Rock' Is Connected To 'The Shining'
In Hulu's new series, Castle Rock, you'll get to revisit the fictional town that has served as a backdrop for many Stephen King novels. While the series wasn't written by King, it was inspired by his stories, and features tons of references to his novels and characters. Jane Levy's character Jackie Torrance is a recovering addict, the town's self-appointed historian, and seems eager to see the town return to it's sinister glory. But it's her name that has King fans wondering, is Jackie Torrance related to Jack Torrance from The Shining? Because her name can't be a coincidence.
In Wednesday's episode, Jackie confirmed that her name is actually Diane, but she renamed herself after her uncle Jack Torrance. So, she is definitely related to him in some way. In an interview with Den Of Geek, Levy revealed that her character does share a link to King's work, but didn't elaborate on what that link is. "Yes, Jackie does have a close relation with a famous King character," Levy told the outlet, and she mentioned that is was possibly familial.
According to the Stephen King fan page, Jack had two children — Lucy Stone and Danny Torrance — both who went on to be featured in King's novel Doctor Sleep. But Jackie doesn't seem to exhibit any supernatural abilities that run in the Torrance family. Jack and Danny (and their niece Abra Stone) have displayed psychic abilities in The Shining and Doctor Sleep, which made them the prime target for ghostly attacks.
In The Shining, Jack was under the psychic spell of the Outlook Hotel's evil ghosts, who made him try to murder his son Danny and his wife Wendy. When Danny and Wendy managed to escape, Jack died in an explosive fire in the hotel. Danny went on to live his life, inheriting the psychic powers his father had. In Doctor Sleep, Danny uses his abilities to help people find peace after death. He also learns of his half-sister Lucy Stone's daughter, Abra, who also shares his powerful psychic abilities. In the novel, both Abra and Danny use their powers to fight off an evil group called the True Knot. While there is no reference for it yet, Jackie could easily be Danny or Abra's daughter or granddaughter.
The writers and creators of the Castle Rock, Sam Shaw and Dusty Thomason, are huge King fans, and in an interview with Collider, they revealed exactly how they wanted to revisit his fictional universe. "The way that we had imagined the show was as this season-long anthology that could then bend back and touch upon characters and locations, in the same way that Steve's been doing with his novels, for 40 years," said Thomason, "With some of the big benchmark characters and locations — I would be willing to bet that there are Stephen King references in production design that we don't even know about." Shaw added that the Castle Rock production team incorporated indirect wardrobe and set details — like times on clocks and numbers on doors — as tiny little shout outs to King's novels, calling them "lots of little buried love letters all throughout the show."
Considering the show runners are big King fans, and have used his fictional places, events and characters as references in the show, Jackie's name is no coincidence. And even though she hasn't revealed any psychic abilities or dark secrets yet — other than being a little too anxious to see mayhem return to the town — I'm sure that her detailed connection to Jack Torrance will come up at some point.
New episodes of Castle Rock premiere every Wednesday on Hulu.