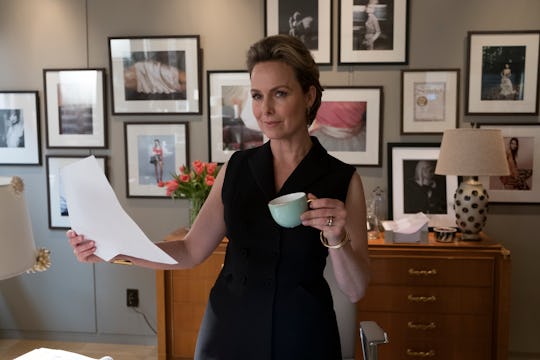 Courtesy of Freeform
Jacqueline From 'The Bold Type' Isn't Entirely Fictional
The Bold Type follows the lives of women working at Scarlet, a woman-friendly publication that focuses on everything from sex toys to politically-charged photography. Despite the fact that the show and its characters are fictional, there's some real life inspiration behind the crafting the series. It's based on Cosmopolitan, as well as the women who have worked on it over the years. While most of that inspiration is of the more general variety, things get specific when talking about Scarlet's editor-in-chief Jacqueline. Since Scarlet is based on Cosmo, it's hard not to wonder: is Jacqueline from The Bold Type based on a real person?
Jacqueline (played by The Office and Transparent star Melora Hardin) could easily become a cliche as the high-powered editor of a woman's magazine, but instead The Bold Type ditched the Miranda Priestly mold to create a boss who is tough, but also kind and understanding as well. That could be because she was based on Joanna Coles, ones of the show's executive producers — and the former editor-in-chief of Cosmo. Coles has been directly involved with The Bold Type from the start, years before it made its way to Freeform. It was initially in development at NBC (first as a comedy, then as a drama), but didn't end up coming to fruition. Coles stuck with it until it found its home though.
It seems like Coles has helped the show find its voice by offering up some of her own life experiences and interesting Cosmo stories to the writers. Her influence on Jacqueline is clear, too. In an interview with New York Live, Hardin described both Coles and Jacqueline as "quite a presence" when explaining that Jacqueline is a woman who sets a high bar, but will happily mentor her young female staff writers to reach it. She's a strong character who doesn't shy away from saying what she means, but doesn't have any intention of tearing other women down.
While Coles may have served as the basis for Jacqueline, she was also an inspirational figure for Hardin, who told BUILD that Coles did for her what Jacqueline does for the girls (and boys) on the show. "Joanna basically sort of said to me, 'Oh my god, I loved you so much on Transparent and I love having a woman who's younger than me, skinnier than me, and funnier than me playing a character inspired by me,'" Hardin said. "So what that does is that makes you think, you know, OK, so she's happy with this match and that makes me want to perform to my very best and that's what Jacqueline does."
The Bold Type may be a fictional show, but it seems like Coles was integral in making Jacqueline who she is. Be sure to tune in for the two-hour season premiere of The Bold Type on Tuesday, July 11.