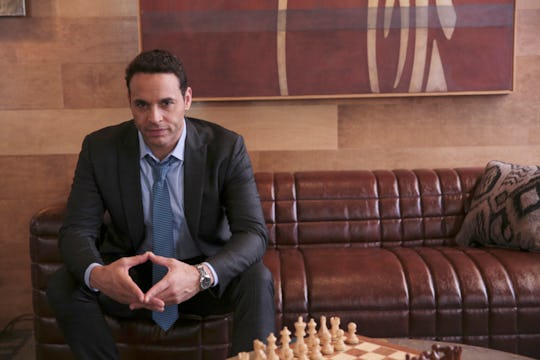 Eli Joshua Ade/ABC
Is Jake From 'Notorious' A Real Person? The Set-Up Is Based On A True Story
Interrupting Shondaland's unprecedented three-hour Thursday night primetime bloc this fall is the new series Notorious, which assumes Scandal's usual time-slot until its midseason premiere this January (giving Kerry Washington some time to finish out her pregnancy and recover from childbirth before heading back to work). Notorious follows the relationship between cable news executive producer Julia George (played by Piper Perabo) and high-powered defense attorney Jake Gregorian (played by Grey's Anatomy alum Daniel Sunjata). In exchange for exclusives with Jake's clients in high-profile cases, Julia gets to break and shape news coverage. So is Jake a real person on Notorious? Actually, yes! And his character's inspiration is an executive producer on the show, lending his expertise on set in real time.
The relationship between Julia and Jake is based on the real-life professional relationship between Larry King Live producer Wendy Walker and civil defense attorney Mark Geragos. Both serve as EPs on Notorious, though Geragos told Vanity Fair that Perabo spends more time studying with Walker than Sunjata spends with him. "Daniel and I have not spent as much time together," he said, "but he kind of gets it. He has some of my quirks."
As for whether or not the dubious exchange of information between cable news outlet and defense attorney is a realistic depiction of what went on between Geragos and Walker, he revealed that it was, stating:
"From Wendy's standpoint, she wants ratings — or did want ratings — so it's important for her to have guests, and do the trade-offs, and things of that nature. So there is a symbiotic relationship, and a dance, although sometimes it's more hate than love, and sometimes more love than hate."
Mark Geragos rose to prominence as a "celebrity" defense attorney, representing clients like Michael Jackson, Chris Brown, Winona Ryder, Gary Condit, and Scott Peterson. It was his representation of Peterson that proved especially useful to Walker when the case was dominating headlines. According to Deadline, she gushed at ABC's TCA panel:
"Mark is a master manipulator of the press...Nobody does it better than he does. He really used our show to get sympathy for Scott [Peterson]. And I looked at this as an opportunity for great ratings and a great story…We did 210 OJ shows, and Peterson was the next best thing, as far as story. I used him."
Walker later added, however, that Geragos "owned [her] show."
Notorious boasts a sudsy premise, for sure, and Perabo and Sunjata have nice chemistry with one another, especially considering that neither of them tested with the other before booking the roles. And while the production aesthetic is certainly slick enough to be a great fit for ABC's Thursday night lineup, we'll have to wait and see whether Notorious can bring it with memorable storylines.