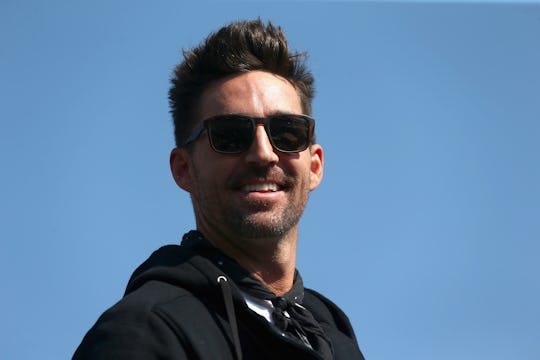 Sarah Crabill/Getty Images Sport/Getty Images
Is Jake Owen Married? The Country Star Is Going To Be A Dad Again
The crooner behind the country hit "I Was Jack (You Were Diane)" is known as one devoted dad, constantly posting about daughter Olive Pearl, 6, but is Jake Owen married? Fans don't necessarily see as much of partner Erica Hartlein. According to E! News, while the singer is not married, he did recently announce something maybe even more exciting: his second child.
Owen and Hartlein broke their big baby news during the singer's recent TV special on ABC, I'm Coming Home, while visiting family in his hometown of Vero Beach, Florida, as E! News explained.
"This'll throw you guys for a loop," Owen told his family during the special, explaining that they hadn't told anyone else. "Erica and I will be having a little addition to our Owen family."
According to People, Owen's mom took the news like a mom would: "I hope it's twins!" she called out, while Owen's dad said, "Gotta have a little boy!" Meanwhile, Hartlein confessed to blushing at all the attention, the magazine noted, adding that the new baby is expected in either late spring or early summer 2019.
Owen and Erica, an interior designer, according to her Instagram account, which is private, both make their home in Nashville. The couple has been together since at least 2017 according to the website Taste of Country. Though the couple has seemed to keep a low profile, Taste of Country did note, however, that the adorable pair walked the red carpet together at the Academy of Country Music Awards this year.
Owen is way more forthcoming about his journey as a super-involved single dad, so I know he'll do great a second time. Daughter Olive Pearl (who goes by Pearl, according to his Instagram), frequently accompanies her dad on tour, as his pics show.
Owen and Pearl's mom, Lacey Buchanan Owen, split in 2015, according to E! News, which noted that Owen said at the time, "We want to focus on our daughter Pearl and make sure that she has a beautiful life with loving parents."
E! added that Owen also tweeted at the time, "This is the hardest thing I've ever done in my life. We appreciate your support and privacy in this matter."
Happily, Pearl seems to have done great since the split, dividing her time between life on the road with Owen and her newly-remarried mom's house, where she found out she's going to be a big sister on the other side of her family at the same time, according to Instagram. (What timing! Buchanan Owen got remarried herself in July, according to her social media posts.) "To her, I'm not the singer Jake Owen, I'm just dad," Owen told People of his relationship with his mini-me.
Owen, who just concluded his "Life's Whatcha Make It" tour, according to his social media, also survived last year's Harvest 91 Country Music Festival in Las Vegas, where a gunman opened fire, as he related to Today.
Owen was just offstage and not more than 50 feet away from headliner Jason Aldean when bullets began firing. "It was chaos," he told the news outlet at the time. "It literally was like a movie you've seen before that's not real life."
"As much as I love my job and playing music, the most satisfying, fulfilling moments in my life is when I can break away from the day-to-day grind ... and just get back one-on-one with my little girl," the singer told People in 2017. "She really adds substance to my life."
Aww. Congrats to Owen and Hartlein. I can bet they'll have a helper with the coming baby in big sister Pearl.