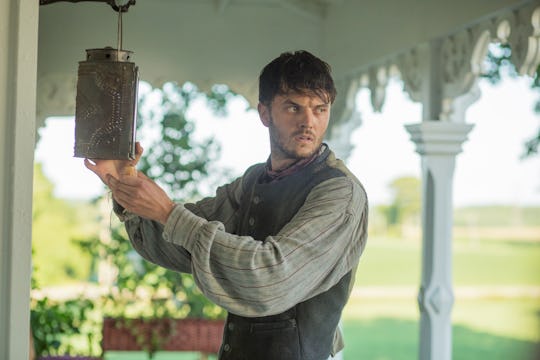 Sabrina Lantos/Netflix
James McDermott From 'Alias Grace' Plays A Key Role In Grace's Story
What makes a better TV series: true crime stories or fictional crime stories? Both have their merits, but Netflix's new series Alias Grace attempts to be something different: a mix of both. The show is based on the novel of the same name by Margaret Atwood, which itself is inspired by real-life events. In the 1800s, a teenaged girl — the titular Grace — and a fellow servant, James, were convicted of murdering their employer and his mistress. But is James McDermott from Alias Grace a real person? The stablehand was found guilty of killing the couple with the help of a young girl.
I love fiction, but there's something about true crime that really fascinates me. I know I'm not alone in this; Serial and Making a Murderer became cultural phenomenons. Hell, there's a whole TV channel called Investigation Discovery filled with shows of real-life murder reenactments. True crime fans can rejoice, then, because Alias Grace is indeed based in reality. Margaret Atwood's 1996 novel Alias Grace is about a real woman, Grace Marks, who in 1843 was sentenced to life in prison for the murder of her wealthy employer, Thomas Kinnear. Oh, and she was also convicted of murdering Kinnear's housemaid and mistress Nancy Montgomery, who was pregnant at the time of her death.
Given Marks' age, gender, and apparent beauty, she was sent to prison for the crime. Her accomplice, McDermott, was not so lucky. James McDermott, who was also a real person, was convicted of the Kinnear and Montgomery murders as well and hanged for the crime. Aside from that, though, further information about his life is relatively unknown.
In the afterward for Alias Grace, Atwood did mention a scintillating detail:
Grace and her fellow servant James McDermott had run away to the United States together and were assumed by the press to be lovers. The combination of sex, violence and the deplorable insubordination of the lower classes was most attractive to the journalists of the day.
Viewers won't know how James and Grace's relationship will fare in the series until it drops, but I do wonder if Netflix will portray it as romantic. Unfortunately, a lot of information surrounding this trial has been lost. Susanna Moodie wrote about Grace Marks in her book Life in the Clearing several years after the conviction, but Atwood pointed out that she wrote from memory — so she got some things wrong.
While Marks was given a life sentence, she was released after 30 years. She apparently moved to New York under the name "Mary Whitney," but then was never heard from again. It's really impossible, then, to know the nitty gritty of the murder. The few concrete facts are that Marks and McDermott were convicted, though the exact role Marks played in the whole thing is still a little unclear, which is what should make the series so interesting.
At the time, there were two distinct beliefs: Marks was the ringleader and forced McDermott to follow, or the opposite. The novel — and hopefully the series — shows this dichotomy of how women were perceived. It may be frustrating to never know the truth, but I'm excited to see how this ambiguity is shown. The series will also have an element of early psychiatry with the addition of the fictional Dr. Simon Jordan. Given how breathtaking The Handmaid's Tale was, I have high hopes for this Atwood adaptation as well.
Watch Romper's new video series, Romper's Doula Diaries:
Check out the entire Romper's Doula Diaries series and other videos on Facebook and the Bustle app across Apple TV, Roku, and Amazon Fire TV.