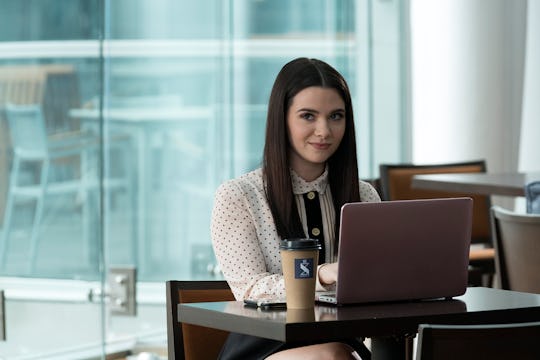 Courtesy of Freeform
Is Jane From 'The Bold Type' Based On A Real Person?
When Joanna Coles signed on as executive producer of Freeform's The Bold Type, it was almost guaranteed there would be a character based off of her. The show is inspired by Coles' time as editor-in-chief at Cosmopolitan and features Jacqueline (played by Melora Hardin) as Coles' fictional counterpart, the editor-in-chief of Scarlet. Jacqueline quickly takes a liking to three rising stars at her magazine, Kat, Sutton, and in particular, Jane. Excited fans may be wondering: is Jane from The Bold Type based on a real person? The answer is yes, and no.
When the show begins, Jane (Katie Stevens) is a newly promoted writer at Scarlet. She's bright-eyed and excited about her job, but is determined to make a name for herself while also sticking to what she knows is right. Showrunner Sarah Watson has said that a major part of Jane's life is "finding herself, finding her voice, and finding her identity."
Although initially intimidated by Jacqueline, Jane and her friends find that she is much more than the Miranda Priestly-esque character that might be expected of a woman in her position as she helps guide them towards moving their careers forward. While Jane, Kat, and Sutton were "inspired by the women of Cosmopolitan," they don't seem to be based off anyone in particular.
One of Jane's early plot lines involves the conflict of having to write about having "the best sex ever" when she herself has never had an orgasm. She feels like a "fraud" telling Jacqueline about it, so she decides to open up to her friends. They can't believe what they're hearing, but vow to help her solve her problem. It's pretty refreshing to hear women openly talking about sex on television without being shamed for it, and that seems to be the precedent The Bold Type is setting.
The show is carving out a place for itself as one that strives to empower women. In an interview with Refinery29, Watson said that her goal for the show was to make sure that the girls were always supportive of each other. "I feel like that's not something we see a lot of on TV," Watson explained. "Often, there's a lot of backstabbing. Obviously, they're going to have conflict, but I wanted the drama to still come from a place of them supporting each other."
If The Bold Type's marketing is anything to go off of, this will definitely be a show that does not shy away from feminism. In an age where plenty of women are unsure what the true meaning of feminism is, it's refreshing to see young girls embracing it.